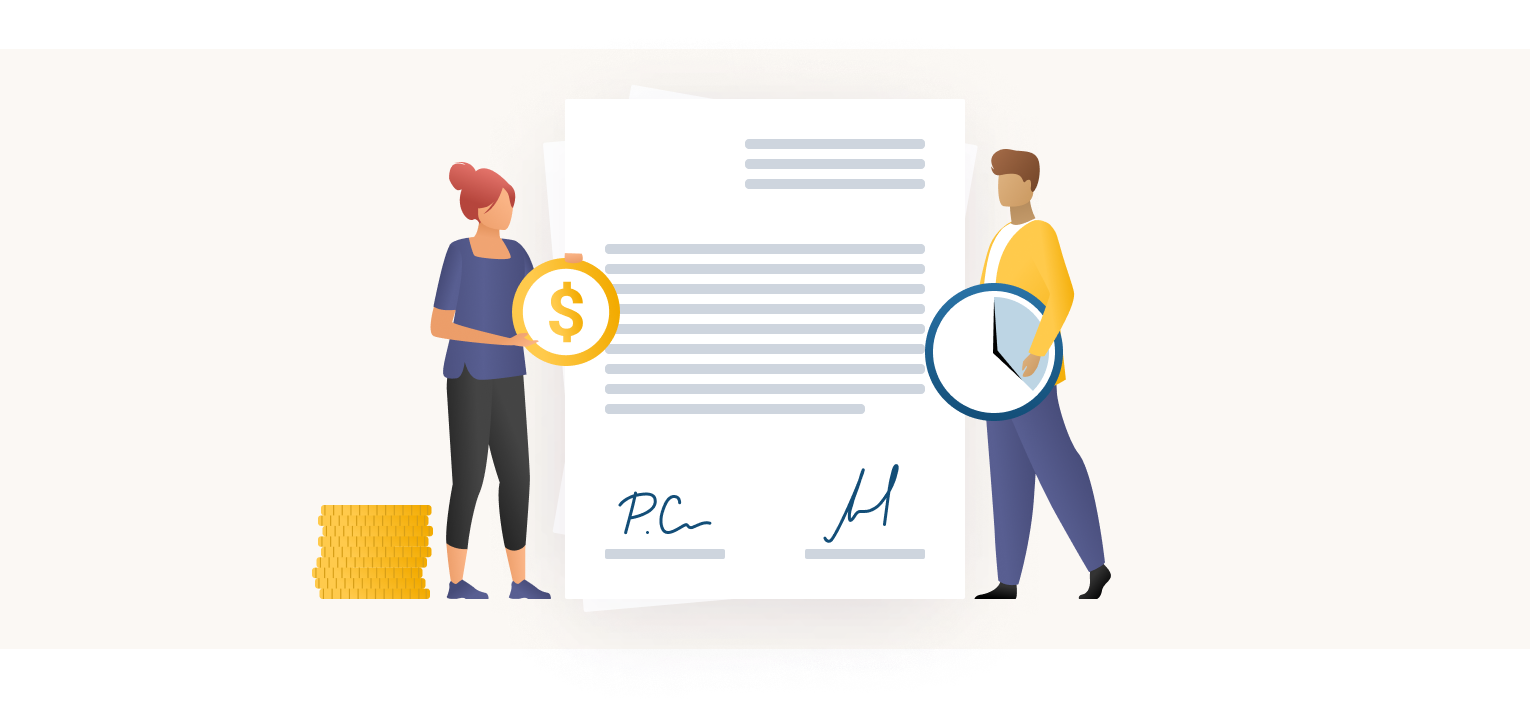 When choosing to outsource website development for your eCommerce business, at some point you will come across various terms describing the type of contract – whether it be hourly rate, T&M, time and materials –they all mean the same thing; final costs are based on the total development effort required. But then, why is this type of eCommerce website price estimation becoming more and more widespread?
What Is a Time and Materials Contract?
The term originated in the construction industry, where "time" and "materials" literally meant the time and the materials that contractors and subcontractors actually spent on construction of a building. Extrapolate the meaning to eCommerce website development – or any sort of website development, actually – and you'll have a pretty close definition of the hourly rate pricing model.
TL;DR 
Instead of quoting the total cost of an eCommerce site upfront, the development team will research your business processes, collect your requirements and key features and work with you on creating a rough scope of work, at a fixed hourly rate, that suits you and start the development process right away.
Why Choose Time and Materials
This type of contract comes from the very specific project management processes involved with eCommerce site development and, more importantly, the constantly changing environment. 
In the dynamic conditions, many IT companies – and X-Cart among them – adopted the Agile development methodology, as it implies that the environment and requirements continue to evolve throughout the development process. 
The Agile approach allows us to start the development process as soon as we have an understanding of the business requirements and negotiate the key features of the end product. What's more, it allows for the requirements to change even at advanced stages of the development process, which is only natural with this management system. 
Normally, the development process is divided into sprints followed by testing and compatibility verification with the result of a minimal viable product (MVP in short). Basically, in any of these sprints, you can adjust, expand or even pivot your requirements. As the project progresses, you receive detailed reports of what's been done, what's next, and you verify that each sprint's MVP is what you expected it to be. 
The constant control over the successive MVPs allows you to improve the project on the go. Thus, the Agile methodology solves two problems at once: the transparency of the project process and the quality of the end product.
What to Expect from Your Development Team
If you are new to Time and Materials contracts, you may experience changes in how you communicate with your development team. First and foremost, with the specifics of the Agile methodology, you should expect to be more involved with the development process. Such deep involvement allows your developer to deliver the best possible results in the shortest possible time. Besides, it allows you to gain more control over the end product. 
Another major change is in the process itself. We would like to outline X-Cart's normal development process here. Your specific project development stages might vary depending on your requirements, which is absolutely normal, given the nature of the approach.
These are the normal stages to the development process. 
Business analysis. Here your team will learn about your business, investigate your business requirements, research best practices to offer the best course of action. 
Specifications. Based on everything they learn during the business analysis phase, they will create a project specification. But unlike fixed price contracts, time and materials implies that they take a phased approach with each MVP and at the early stages of the development process, you will see the outline of the development phases, and with each iteration, the specifications will be more detailed. 
Sprints. The development process is divided into short sprints, each of which results in an MVP, as we mentioned earlier. Each sprint consists of development and QA testing to ensure that the MVP aligns with your expectations. 
Quality assurance. Each sprint already contains this phase, but your development team will also perform testing of your end product at the end of the development process. 
Post mortem. Even after your project is completed, you might have questions, want to implement changes, or report bugs. Your development team stays in touch for such cases.
When to Choose the Time and Materials Contract and How to Do It Right
Do the aforementioned reasons mean that it's best to choose the Time and Material contract by default? No. Choosing the type of contract should be well thought-through, taking the specifics of your business into account, just like you choose the payment gateway, web hosting or even the overall eCommerce platform.
You should consider the Time and Materials contract for your project if two or more of the following situations apply:
You don't have precise requirements or accurate specifications before the project starts. 
You have a number of tasks or improvements that occur from time to time and can't always be predicted. 
You don't know exactly what your project scope is or how the final product will look in the end. 
The planned project implementation is likely to take a long time: several months or longer. 
You require a high level of flexibility from the contractor. 
You would like to be able to change requirements during the development process or even pivot the whole project if necessary. 
You expect to be in full control over the development process. 
You would like to implement evolving technologies, develop something unique or connect an untested service or system.
Even though Agile + T&M is an ultimate combination ensuring the success of a big and busy development project, you should consider the following risks and challenges. 
Choose the right eCommerce software and the right development team. You need to ensure two things. First, your eCommerce solution allows for extensive customizability and supports the most popular technologies. Second, the eCommerce developer team that you hire is flexible, open, and has plenty of experience, preferably with your eCommerce platform. Luckily, with X-Cart, you get both under one roof. 
Establish the project frames. Specifically, provide as clear requirements as possible and work with your development team to outline the scope, estimate the approximate number of sprints, and map the budget. 
Ensure the team is equipped and qualified to do the job. Does your vendor have expertise in all needed areas, with specialists covering every aspect of an eCommerce business? Whether it be a web designer, eCommerce developer, user experience expert, migration specialist, search engine optimization guru, etc… X-Cart handpicks and trains every specialist thoroughly. 
Engage with the team. Even though we are happy to deliver as much as possible without being told exactly what to do, communication and feedback are crucial parts of an Agile project. We can ensure that the more you are involved, the cheaper will your eCommerce website cost in the end, and the better will the end product turn out.
Historically we have scoped, invoiced and required payment for each task as it is received, where further investigation and changes along the way have required subsequent invoices to first be processed. 

We now propose a Time and Materials (T&M) relationship model that we've found works very well with our larger, busier partners and invoice only on time and materials spent. This alleviates the need for your team to process individual invoices before work begins and allows our conversations to flow into development immediately. New initiatives will always come with an hourly estimate, similar to the upfront fee you've previously been asked to process. 

We strive to provide estimates considering all details discussed. It is not possible, however, to predict with 100% accuracy, and the estimates provided are always approximate. We will calculate all actual hours spent and invoice either at the end of the project, or once at the end of each month to include all tasks processed within that time.
Communication Best Practices
To make sure we meet each other's expectations, keep in mind these best practices to help us communicate in the most effective way possible. 
All time spent on the project is considered billable. To ensure expenses remain as low as possible, we suggest being as accurate as possible in descriptions and questions.
Be involved in the project and participate actively in its discussion. 
Give timely feedback. Make sure to provide feedback for the work implemented by the development team as quickly as possible and give your okay or suggest corrections that align with the ultimate goal of the project. 
Quick and detailed answers to questions. This allows the development team to quickly move forward in the project implementation. If the answers are expected for a long time, then the team has to spend additional time returning to tasks. 
Screenshots of issues, steps to reproduce a use case or videos is a helpful way to demonstrate your thoughts, ideas, and feedback. 
If you provide your own mockups, make sure to take into account the features of the X-Cart platform and your preferred skin. 
Any adjustment during the implementation phase that goes beyond the original SOW is considered a new requirement. We recommend to implement them within a separate sprint. We are open to implementing any additional features along the way, but the more detailed and accurate the original SOW is, the better chance to minimize the final cost and timeline.
Why Not a Fixed-Price Contract?
Its greatest benefit and greatest flaw is that it's fixed. On the one hand, it means that you know upfront your website development costs and how long the project will take to implement. 
On the other hand, the requirements need to be formulated and formalized to the last detail before even the cost estimation takes place – and you have to stick to them as rigidly as possible to avoid exceeding your budget and pushing back deadlines. 
You can, of course, negotiate the changes in the process, as they come up, but in the majority of cases, every change, save the smallest ones, modifies the budget and extends the development time. And here's an uncomforting piece of truth: Being first and foremost a business, your software development company is likely to overestimate the project cost and time a little to ensure all possible unknowns are accounted for. 
An important thing to take into consideration: Creating an advanced specification takes time and resources, too – either from you or from someone who does it for you. In the latter case, these specifications are considered billable time. This especially applies to building a new eCommerce website from scratch. When you are trying to make do with as little investment as possible and also to cut the time to market – the extra expenses are significant. The good thing, though, is they can likely be avoided if choosing to pay an hourly rate. 
Another significant flaw of the fixed-price pricing model for a startup, replatforming or a large-scale project is that as time goes by, the development process is becoming more and more complicated, with new technologies evolving, hosting environments changing, new rules and regulations imposed, trends emerging and dying out. As a result, the accuracy of time and website cost estimates for development projects is becoming less and less satisfactory.
But Why Is It Impossible to Give a Correct Estimate of the Total Cost in Advance?
Starting to build an eCommerce website, you come across many associated costs: eCommerce platform subscription, an SSL certificate, design costs, web hosting, payment gateway rates, and a number of other things. Some of the website costs are obvious from the beginning and some are not. 
The truth is, in a website development project, not one, but three things are almost impossible to estimate accurately: the total cost of the project, its full scope, and the duration. Having years of experience with all sorts of custom projects, we can guess correctly, but that's about it. Numerous aspects to a custom development project influence the estimation, and a change in even one of them can impact the total cost rather drastically. Some of these aspects are timelines, scope, technology, issues implementing a third-party system. 
But the most important one is your own plans and expectations for the final product. As time goes by, after finalizing the contract, you might find that the market environment has changed, or you have acquired new investors, or some of your business hypotheses have been proven or disproven and need to be reformulated. 
With a fixed-cost approach, you'd need to spend extra money implementing the changes in these cases. You'd need to spend valuable time negotiating the new conditions, timelines, and costs involved with the contractor to get the new contract signed. With a Time and Materials website pricing model, you can practically pivot any time, fairly paying for the job to be done, no more, no less. That's where this type of contract is mutually beneficial to both parties.
TL;DR: Fixed Price Contract vs. Time and Materials Contract – What's the Difference?
*Please note that the table below applies for big and busy projects that check two or more boxes in the checklist above.
T&M
Fixed Price
Do you know the cost and timeframes upfront?
No
Yes
Is the estimated cost accurate?
Yes
No
Are the changes easy to introduce?
Yes
No
Can you split the payments?
Yes
Most generally,
no
Are there any hidden costs?
No
Might be
Do you have to provide the detailed requirements upfront?
No
Yes
Can you change the direction during the development process?
Yes
Yes, but
(see next line)
Is it easy to change the direction during the development process?
YES!
No
Does it take long to start the development?
No
Most generally, yes
How much involvement is expected from a customer?
A lot
Minimal
How much control does a customer have over the project?
A lot
Minimal
Benefits of Time and Materials
Depending on your specific business vision, you might find the following reasons to choose to pay an hourly rate for your project: 
greater budget flexibility and lower loss risk for both parties;
opportunity to split payments and only pay for the performed job;
flexibility in choosing the path not only at the initial stages of the project, but along the way for large projects; 
less time spent on formulating the requirements results in an earlier start of the development process;
regaining control over your project, with any changes or new tasks easily added on demand;
new specifications and changes can be negotiated at any project stage.
Bottomline
There is no ideal type of relationship between an eCommerce developer and the employer, and there are risks and challenges associated with every one of them. Still, it is more than possible to choose the pricing model that works best for you. 
A fixed-price contract is best for a small project where you know exactly what you want in the end and you are prepared to stick with your choices. A time and materials contract is more suitable for longer-term projects, those starting an eCommerce business, or if you expect your contractor to be flexible and ready to pivot along with your plans. 
Even if you are still deciding what to pick, you can always count on our specialists to propose the one that fits your needs exactly. Having extensive expertise in both developing various business projects from scratch and implementing small tweaks to established online store functionality, we offer the type of contract depending on your unique business needs.
Ready to Discuss Your eCommerce Business Needs?