Key events
Russia's warship with hypersonic missiles arrives for drills with South Africa and China
Russia's flagship frigate equipped with new generation hypersonic cruise missiles has arrived in the South African port of Richards Bay for exercises that will include China, Russia's RIA state news agency reported on Wednesday.
South Africa was due to launch the joint exercises on Friday. It calls the drills routine but they have fuelled domestic criticism and fears they could endanger relations with western partners.
The beginning of the exercises coincides with the first anniversary of the Russian invasion of Ukraine and follows Russian President Vladimir Putin's decision to suspend its last major nuclear arms control treaty with the United States
The ship, named "The Admiral Gorshkov of the Fleet of the Soviet Union", had arrived at Richards Bay "performing the tasks of a long-range voyage", RIA reported, citing a statement from the Russian Northern Fleet.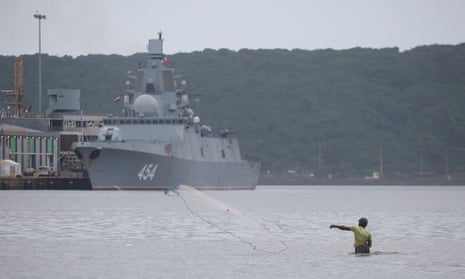 The Gorshkov warship, which was sent off from Russia on 4 January, carries the Zircon missiles which have a range of 900 km (560 miles) and can travel at several times the speed of sound, making it difficult to defend against them.
In late January, the ship tested its strike capabilities in the western Atlantic Ocean.
UN general assembly to vote on draft resolution calling for peace
The UN general assembly meets today, two days ahead of the anniversary of Russia's invasion of Ukraine, with Kyiv and its allies hoping to garner broad support for a resolution calling for a "just and lasting peace."
The draft resolution, sponsored by 60 countries, is to be voted on after the close of debate – not expected until at least Thursday.
The text "underscores the need to reach, as soon as possible, a comprehensive, just and lasting peace in Ukraine in line with the principles of the Charter of the United Nations."
Like previous resolutions, it reaffirms the UN's "commitment to the sovereignty, independence, unity and territorial integrity of Ukraine" and calls for an immediate cessation of hostilities.
Russia's first criminal case against Ukranian forces goes to court
Russia's first criminal case against a member of the Armed Forces of Ukraine, accused of forcibly seizing power and ill-treatment of civilians, has gone to court, the state TASS news agency reported on Wednesday.
Russia's Investigative Committee said on the Telegram messaging platform in June that it had charged Senior Sergeant Anton Cherednik of the Marine Corps of Ukraine's forces with the alleged crime of cruel treatment of civilian population.
TASS, citing unnamed sources at the Southern District Military Court in Russia's Rostov-on-Don, said that Cherednik was also charged with murder and training for the purpose of carrying out terrorism.
Reuters was not able to independently verify the reports and the charges.
TASS said the court will consider the case "in the near future.
More now on Biden's meeting today with the Bucharest Nine. Most members of the group – made up of the countries on Nato's eastern flank who joined the western military alliance after being dominated by Moscow during the cold war – are strong supporters of military aid to Ukraine, and officials from countries in the group have called for additional resources such as air defence systems.
At the meeting, Biden plans to reaffirm commitments over their security and discuss support for Ukraine before he returns to Washington.
Russia regards Nato, which could soon expand to include Sweden and Finland, as an existential threat.
Lithuanian President Gitanas Nauseda's message to Biden will be that it wants "greater involvement of the US in Europe, Nato's eastern flank and, of course, more aid to Ukraine," his chief foreign policy adviser told Lithuanian radio on Tuesday.
"Lithuania and other like-minded countries have several requests, which concern air defence, forward defence presence, air defence systems, and greater investments in the defence industry," Asta Skaisgiryte said.
The former Soviet republic on Russia's doorstep joined Nato in 2004 and plans to host Biden in July for the security alliance's leaders' summit.
Who is winning in Ukraine – and what will happen next?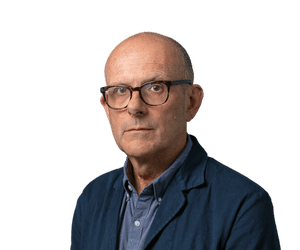 Peter Beaumont
As the one-year anniversary of Russia's invasion of Ukraine approaches on Friday, the picture looks very different to the first weeks of the war, when hundreds of Russian tanks poured over the border and airborne forces attempted to capture Hostomel airfield, outside Kyiv, as a springboard to take the capital. Here we look at the status of the conflict and what might happen next.
There are different ways to assess who is winning the war. Neither Russia nor Ukraine is close to achieving its stated war aims, which in Ukraine's case involves liberating all occupied territory.
It is probably safe to say that the current trajectory of the conflict is going much better for Ukraine than for Russia – and that the continuing influx of new weapons from the west will maintain that trajectory.
But Ukraine, as the EU's head of foreign affairs, Josep Borrell, warned recently, is heavily dependent on the west for arms, including artillery ammunition, which has exposed a potential vulnerability for Kyiv in the east, where artillery has dominated the battles.
What is also unclear is how much of a gamechanger weapons such as main battle tanks are likely to be in bringing the war towards a close, or how quickly.
So for now, the war grinds on. Read more on where things stand here:
Kazakhstan may send the first batch of oil via Russia's Druzhba pipeline to Germany in the coming days, possibly on Wednesday, Russia's RIA state news agency cited Kazakhstan's Energy Minister Bolat Akchulakov as saying on Wednesday.
"I really hope that it will go today," Akchulakov said.
Kazakh supplies are meant to replace those of Russian crude that the European Union pledged to stop buying as part of wider sanctions prompted by Moscow's invasion of Ukraine.
The Soviet-built Druzhba pipeline remains exempt from sanctions, but Germany's refineries in Leuna and Schwedt – which are connected to the pipeline – have not ordered any Russian crude for this year.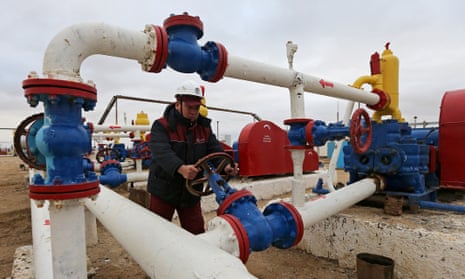 Transnistria is a predominantly Russian-speaking region wedged between the Dniester River and the Ukraine border. It seceded from Moldova after the collapse of the Soviet Union.
In 1992, the separatists fought a war with Moldova's pro-western government, which ended in hundreds of deaths and the intervention of the Russian army on the rebels' side.
In a 2006 referendum that was not recognised by the international community, 97.1% of voters backed joining Russia, dealing a blow to Moldova's hopes of following Romania and other ex-communist eastern European states into the EU.
Transnistria is controlled by pro-Russian separatists and permanently hosts 1,500 Russian troops as well as a large arms depot.
Moldova's president, Maia Sandu, has made clear her opposition to Transnistria's secession.
She wants Russian troops stationed along Transnistria's frontier with Moldova to be replaced with an observer mission from the Organisation for Security and cooperation in Europe, a proposal rejected by Moscow.
More on Transnistria here:
Russian military responds to Wagner chief's 'treason' claim
The head of Russia's Wagner mercenary group has said Moscow's military chiefs are refusing to supply the group with munitions and are seeking to destroy it, accusing them of "treason", in an escalation of the war of words between senior Russian officials and the private army boss.
Yevgeny Prigozhin's mercenary force, which has recruited from prisons across Russia to bolster its ranks, is playing a key role in the efforts to capture the city of Bakhmut in Ukraine's east. The battle has exposed tensions between the Wagner group and the Russian army, though the Kremlin denies any rift.
"[Moscow's] chief of general staff and the defence minister give out orders left and right not only to not give ammunition to PMC Wagner, but also to not help it with air transport," Prigozhin said in a voice message shared by his press service on Tuesday.
"There is just direct opposition going on, which is nothing less than an attempt to destroy Wagner. This can be equated to high treason," he added.
Russia's defence ministry has denied limiting ammunition shipments to volunteers at the front, but made no mention of the Wagner group private army or of Prigozhin's accusations.
"All requests for ammunition for assault units are met as soon as possible," it insisted, promising new deliveries on Saturday and denouncing as "absolutely false" reports of shortages.
"Attempts to create a split within the close mechanism of interaction and support between units of the Russian [fighting] groups are counter-productive and work solely to the benefit of the enemy," the statement read:
Putin revokes decree underpinning Moldovan sovereignty
Putin has revoked a 2012 decree that in part underpinned Moldova's sovereignty in resolving the future of the Transdniestria region – a Moscow-backed separatist region which borders Ukraine and where Russia keeps troops.
The decree, which included a Moldova component, outlined Russia's foreign policy 11 years ago which assumed Moscow's closer relations with the European Union and the United States.
The order revoking the 2012 document was published on the Kremlin's website and states that the decision was taken to "ensure the national interests of Russia in connection with the profound changes taking place in international relations".
It is part of a series of anti-western moves announced by Putin on Tuesday.
Biden to meet Nato secretary and 'Bucharest Nine' in Poland
US President Joe Biden is still in Poland, where he will meet with leaders of the so-called "Bucharest Nine" countries, Nato's eastern European members, and Nato chief Jens Stoltenberg.
The Bucharest Nine, or B9, was formed in 2015 in response to Russia's aggression in Ukraine. Its members are Poland, Romania, Bulgaria, the Czech Republic, Lithuania, Estonia, Hungary, Latvia, and Slovakia.
Biden is expected to return to Washington on Wednesday evening.
On Tuesday he delivered a speech in Warsaw in which he rallied the allies, saying, "When Russia invaded, it wasn't just Ukraine being tested. The whole world faced a test for the ages."
Hello and welcome to our live coverage of the war in Ukraine. My name is Helen Sullivan and I'll be bringing you the latest.
Coming up today: US President Joe Biden is in Warsaw, Poland, where he will meet with Nato Secretary General Jens Stoltenberg and the 'Bucharest Nine' nations, Poland, Romania, Bulgaria, Czech Republic, Lithuania, Estonia, Hungary, Latvia, and Slovakia.
And Russian mercenary chief Yevgeny Prigozhin launched two verbal attacks against top brass on Tuesday, accusing them of depriving his Wagner fighters of munitions in what he called a treasonous attempt to destroy his private military company.
More on these stories shortly. In the meantime, here are the key recent developments:
Ukraine told schools on Tuesday to hold classes remotely from 22-24 February because of the risk of Russian missile strikes around the first anniversary of Moscow's 2022 invasion.

Speaking before a crowd of thousands in the gardens of Warsaw's Royal Castle, Joe Biden hailed the resilience of Ukraine's people and the benevolence of Poland and other western allies in helping fend off the Russian invasion.

The US president said the attack on Ukraine will never be a victory for Russia, and said new sanctions against Russia will be announced this week.

The foreign ministers of the G7 have said their countries would continue to impose economic costs on Russia and urged the broader international community to reject what they described as Moscow's "brutal expansionism".

Russian president Vladimir Putin has given a long televised national address to the joint houses of the Russian parliament, in which he blamed the west for starting the war in Ukraine and promised a new fund to help those who had lost loved ones in what he referred to as Russia's "special military operation" in Ukraine.

Putin also announced the suspension of Russia's participation in the New START (Strategic Arms Reduction Treaty). The foreign ministry later said Moscow intended to continue abiding by the restrictions outlined in the treaty on the number of warheads it could have deployed.

Nato's secretary general, Jens Stoltenberg, has said he regretted Russia's decision to suspend its participation in the New Start bilateral nuclear arms control treaty and urged Moscow to reconsider.

President Volodymyr Zelenskiy said on Tuesday that Ukrainian forces were maintaining their positions on the frontline in the east after Russia reported it was advancing on its main target in the area. Russia, trying to secure full control of two eastern provinces forming Ukraine's Donbas industrial region, has launched repeated assaults, securing its biggest gains around the mining city of Bakhmut.

Eighteen Russian MPs are expected to attend a meeting of the Organization for Security and Cooperation in Europe (OSCE) in Vienna on Friday, the first anniversary of Moscow's invasion of Ukraine, and have been invited to a nationalist ball.