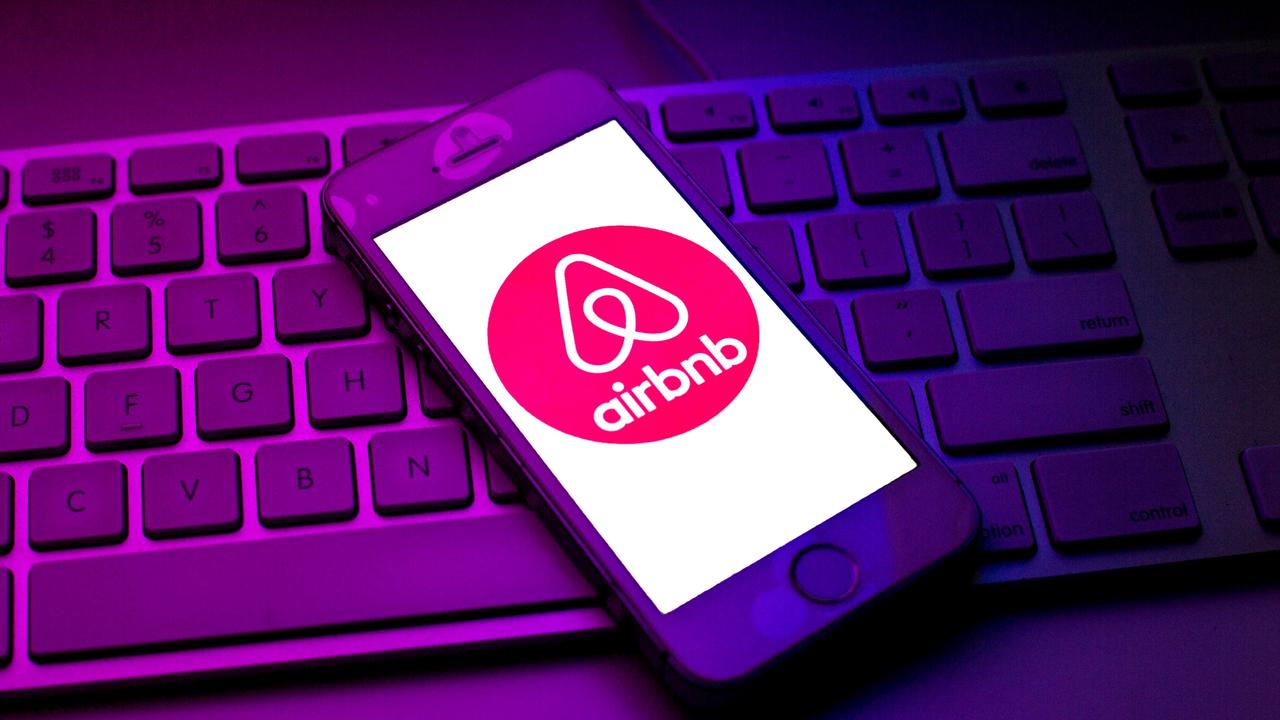 Rental vacancies are at near-record lows across the country, and combined with skyrocketing house prices, families are being literally left out in the cold.
The crisis is driven by a number of things, including increasing immigration and inflation.
But another factor is the rise of short-term accommodation platform Airbnb.
Cities in Australia and overseas are racing to stem the growing problem of landlords choosing to rent their homes out as temporary or holiday accommodation instead of to full-time residents, with Portugal just this week passing laws to limit the number of short-term rental licences granted in urban centres.
In Santa Maria Maior, the downtown area of the Portuguese capital, Lisbon, more than 60 per cent of listings are short-term rentals, according to Reuters.
The idea that spawned Airbnb was a simple one: two San Francisco roommates wanted to generate some extra cash when tech shows were in town by renting out a blow-up mattress on their living room floor. What was once an attractive side-hustle has ballooned into an $81.3 billion behemoth.
Airbnb has been operating in Australia for more than a decade, with states and territories taking various steps to reign in an explosion of listings since the company's 2012 Aussie launch.
But Airbnb has denied it's responsible for the nation's housing crisis, pointing instead to "legacy issues" around social housing shortages and interest rates.
The argument played out in real-time this week in Tasmania, where Hobart City Council failed in a bid to place a cap on new whole-house short-stay rentals.
In Western Australia, available rental properties in Perth have hit a 42-year low.
The state government has taken its own steps to curb the short stay giants — Airbnb the leader by far, but services like Stayz and HomeToGo also loom large in Perth — with plans on the table since 2019 seeking to limit the number of nights any property can be rented out on a short-stay basis to just 60 per-year.
The proposal stemmed from a 2019 parliamentary inquiry into short-term rental accommodation (STRA) and a subsequent draft position statement.
The Western Australian Planning Commission (WAPC) is not expected to deliver proposed amendments to the relevant Act and operational framework for a registration scheme until the second half of the year.
If all goes to plan, the scheme will be fully operational some time in 2024. So plans to control STRA agencies are progressing – though slowly.
If you've never delved into the world of peer-to-peer property rental, the process is simple: a host puts their listing up on the relevant short-stay app, sometimes a single room but usually whole apartments or homes, and charges per-night, much like a hotel.
Hosts have to provide the bare minimum — things like soap and toilet paper — but going above and beyond is encouraged for positive host ratings.
WINNERS AND LOSERS
There are, of course, success stories to come out of the online short-stay boom.
In 2017, Perth father and son Alan and James Moody revealed they were raking in more than $90k renting out their Ascot mansion on Airbnb.
"The traditional lease arrangements under the current laws would've made things very, very hard if we had a problem tenant," James told The West Australian at the time.
There are also sad tales which highlight the extent of the rental crisis in WA.
Last week, TikTok user JackAjay filmed a queue of more than 100 people lining up to view a Bentley two-bed one-bath apartment; he was planning on checking out the rental himself, but turned around after seeing the crowd.
The video — captioned "Condition of Perth right now OMG" — had racked up more than 160,000 views as of Friday afternoon.
In June, a young family were caught on CCTV breaking into a vacant Busselton Airbnb property late at night.
The couple were seen bathing their children, washing their clothes, and only taking a blanket and some basic kitchen supplies before slipping back out as the sun rose.
People sleeping rough can be counted among the victims of a growing business for wealthy property owners, developers, and managers, who can see the allure of Airbnb over a traditional lease agreement.
BIG BUSINESS
Scroll through Airbnb listings for properties in the Perth metropolitan area, and you'll start to see familiar host faces — they're professional Airbnb managers, often attached to existing property management agencies, who've found a new source of revenue thanks to the short-stay service.
'Chenfei' is one such manager, working for Cannington-based Ausvision Realty Group.
She manages a total 49 listings around Perth, ranging from apartments to whole homes, costing anywhere from about $100-$300 per night.
One of the major Airbnb management services is hometime, an Australian start-up which manages STRA across the country and in New Zealand, allegedly generating more than $100m in bookings since it was founded in 2015.
They're among more than a dozen Airbnb management companies anyone can find with a cursory Google search, demonstrating the "hosting" business has transformed from a side-hustle, to a full-blown, full-time occupation for prospective property moguls.
The largest group operating in WA — with 124 listings on Airbnb – is Exclusive Escapes, based in the holiday town of Dunsborough, but offering properties across the South West.
WHO MAKES THE RULES?
Much research has been carried out on the impact of Airbnb on housing by Senior Consultant with Perth-based planning firm Taylor Burrell Barnett, Bec Didcoe.
She separates the issue into two main problems: Airbnb's impacts on the housing market, particularly in regional tourist hubs where there's "competition between tourists, workers (permanent or transient/seasonal) and potential permanent residents."
The other is how the rentals affect amenities for neighbours, mainly due to noise, waste, and parking.
Each local government area (LGA), of which there are 137 in Western Australia, has its own rules around short-term rentals, some even outright banning the practise of renting out a spare room.
The City of Busselton, about 220km southwest of Perth, and a key tourist destination in the state's South West region, introduced a strict set of laws for Airbnb and holiday home users last year.
The three-pronged effort created a law, a local planning policy, and a code of conduct which includes night curfews, mandates on host response times, and a ban on leaving dogs unattended.
"There is a suggestion third wave changes could be on the cards to ban commercial holiday homes from residential areas (in the LGA)," said Ms Didcoe.
"In the vacuum left without State government guidance, the City has responded in a manner that they believe addresses the concerns in their local government area."
But this in turn presents another debate to be had over short-term rentals: one rule for all versus a piecemeal approach with different restrictions in each LGA.
Peter Mrdja, the director of Perth-based firm Urbanista Town Planning, believes the state government needs to be at the helm on the matter.
"In my experience, local governments are not equipped to deal with policies regarding short stay accommodation and generally approach the matter in a reactive and negative way," said Mr Mrdja.
He argues standards are usually influenced by neighbour complaints, resulting in onerous rules around noise, parking and waste management for hosts.
"A state government approach is the preferred outcome in my opinion, as it will provide the same set of rules for everyone to follow, without restricting the flow of a much needed service."
Airbnb's manager for Australia and NZ, Susan Wheeldon, said while the company and its "host community" supported regulation, there were risks with implementing too many rules.
"Western Australia … risks becoming uncompetitive and losing travellers to other states with more balanced rules that allow for a more diverse and affordable range of accommodation," she said.
"Now travel has returned to WA, it's important the state is competitive and able to make the most of the economic benefits of tourism, while also ensuring locals still have a broad range of affordable accommodation options."
SHORT STAYS V RENTALS
Airbnb listings took a hit during the pandemic; with listings across WA peaking at nearly 13,000 pre-Covid, that number plummeted to 9901 in November — a 22.34 per cent decrease on July 2019.
At the time of writing, that's back up to 10,485 — more than that November dip, but still a far cry from the pre-pandemic figure — according to figures from Inside Airbnb, agency collating Airbnb data.
The bulk of those (83.5 per cent, or 8750) are for whole homes, and 55.1 per cent are multi-listings from the same host — meaning they have more than one property on offer.
Using the same Inside Airbnb data, from late December, we can see the problem is exacerbated in the regions.
Broome, for example, has 220 listings at the time of writing; 127, or 57.7 per cent, of those are multi-listings. These are mostly in the Broome township but the data covers the entire Broome LGA.
But over on realestate.com.au, there are only 34 properties listed for rent in Broome.
One of the biggest opponents of Airbnb's operation is the Australian Hotels Association, representing the wider hospitality industry, their disdain for the service is understandable, given every night spent in STRA is a night not spent in a hotel.
WA branch head Bradley Woods has long been outspoken on the issue.
"The need to act on unregulated short stay accommodation in WA has never been more urgent as it is today," said Mr Woods this week, speaking in support of the state government's proposed legislative changes.
"Employers across WA, including in the hotel and hospitality industry, are desperately trying to attract workers to the state, but the lack of accommodation is making this job particularly difficult," he said.
In November, Deep End Services data, commissioned by Airbnb, claimed WA would be about $96m worse-off if they evaporated "more than a million booking nights a year" with the aforementioned 60-night cap, which Airbnb called "the harshest in the country, and among the harshest in the world."
Regardless, targeting short-stay accommodation won't be a silver-bullet that fixes the problem of rental availability..
"Short-stay accommodation such as Airbnb is only a relatively small portion of the overall housing stock, although it may be more prevalent in popular tourist destinations," REIWA boss Cath Hart said.
"What WA needs is a lot more properties.
"Encouraging more long-term investment in property would be a better approach rather than introducing punitive measures for Airbnb and short-stay accommodation owners."
Despite the debate over rental availability, the message from Airbnb — and some experts — is clear: STRA alone is not to blame for a lack of affordable housing.
Petar Mrdja from Urbanista agrees with Airbnb that there are "legacy issues" at play in the Australian housing market.
He notes properties used for housing and those put up as STRA are often two different types of housing options.
"Releasing these properties back on to the market for rental accommodation will have no, to minimal effect, on alleviating the problem with respect to housing availability for renters," he said.
According to REIWA, the median rental on a house in Perth is $545 per-week ($430, $500, and $590 for a two, three, and four-bedroom home respectively) — an increase on the $460 median in 2022, and well above a mid-2017 low of $350.
Compare that to a "high-end entertainer" four-bedroom home in Belmont booked for seven nights in mid-July for $2814, and it seems more profitable on paper, but that one-off payment versus a regular weekly income for an extended period can give landlords pause for thought.
Compare that again to the Ingot Hotel Perth, also in Belmont, at $179 a night, and some tourists may be tempted to surrender space for a bit of extra spending money.
One thing's clear from the arguments set out by stakeholders: the issue of STRA and its impacts on housing and tourism markets is complex, and is going to require a lot of work and co-operation from all sides in order to deliver an outcome which keeps everyone happy, or at the very least, not disadvantaged.
As governments move at a snail's pace to move the goalposts on STRA, the real losers are those left without a roof over their heads because there's more profit to be had for a homeowner renting a property on Airbnb than in a short-to-medium term lease.
In the meantime, you can track the WA government's handling of the legislation around STRA here.
Originally published as Inside fight to fix Aussie rental crisis as Perth hits 42-year low in availability and Airbnb deflects blame