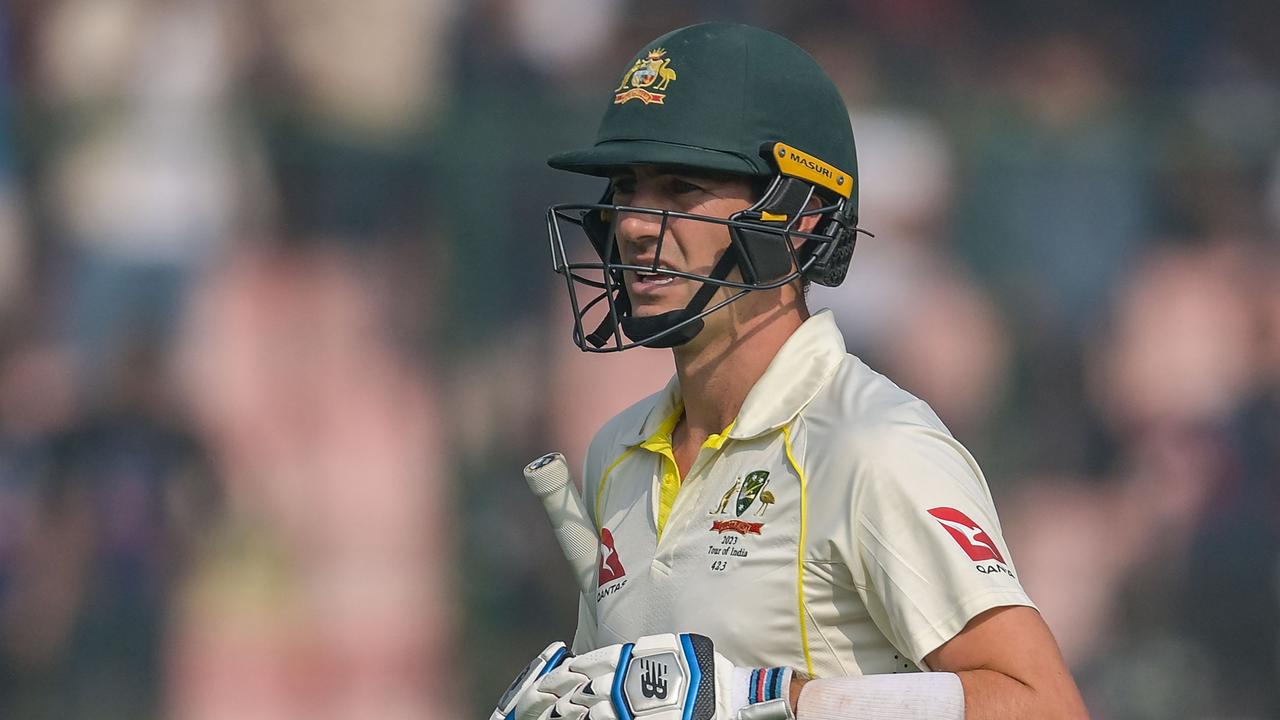 Welcome to day three of the second Test in Delhi as Australia aims to build a defendable second innings lead.
Can Australia fight through the tough conditions or will India's spinners tear through teh tourists?
5.00PM: VICTORY IN SIGHTS FOR INDIA AT LUNCH
India need 101 runs to win the second Test and the series, in a chase that could well be over before tea on day three.
At lunch, the Indians are 1-14 after Nathan Lyon struck early to send KL Rahul back to the pavilion.
But Australia needs to spark the kind of chaos they succumbed to in an embarrassing opening hour and a half in Delhi on Sunday.
Australia were bowled out for 113 – this despite resuming the day at 1-61.
It was horrific batting and yet another series against India is on the verge of being lost.
4.50PM: LYON STRIKES EARLY
Nathan Lyon has struck in the second over to ask the question … is there another twist in this tale?
In an extraordinary piece of bad luck, KL Rahul smashed a ball into the leg of Peter Handscomb at short leg, only for it to pop up on rebound into the gloves of Alex Carey.
It has left India 1-6 and with 109 runs left to win.
Australia's odds are low, but they can make India nervous by building pressure early.
Ten wickets have now fallen in the first session of day three.
4.40PM: "ABSOLUTE DEMOLITION JOB."
Australia is all out for 113, losing nine wickets for 53 runs in an hour and 31 minutes.
It was as embarrassing as it gets in Test cricket.
India only needs 114 to win. The match will be over inside three days.
Matthew Kuhnemann was the last wicket to fall, the latest Australian to be out attempting a sweep.
At the start of the day Australia was 1-61 and in a seriously strong position to put themselves in a match-winning position.
Ravi Jadeja finished with career-best figures of 7-42 and was the chief destroyer. Ravi Ashwin was also brilliant and took three – two of them lbw.
Test greats were stunned at Australia's approach, attempting to sweep almost everything and making the conditions look far worse than they were.
"I think they did panic," Mike Hussey said on Fox Cricket.
Allan Border was "shellshocked."
"I'm disappointed. I'm shellshocked. I'm angry about the way we went about our work today," Border said on Fox.
"Panicky, frenetic batting. No one got in there trying to stem the flow."
4.30PM: JADEJA HAS 6!
Nathan Lyon has joined the procession with Australia now 9-113 and leading by just 114.
In just an hour and a half of play, Australia has lost 8-53 in a staggering and embarrassing collapse.
Australia has tried to play too aggressively – mainly through sweep shots – and paid the price.
Conditions are tricky, but it wouldn't appear they have anywhere near enough runs on the board to defend.
All the damage has been done by the two usual suspects – Ravi Jadeja with six wickets and Ravi Ashwin with 3.
4.20PM: THE ONSLAUGHT CONTINUES
Test great Matthew Hayden has slammed Australia's batting tactics on day three following an embarrassing collapse in Delhi.
Hayden – who mastered Indian conditions on the 2001 tour – questioned why Australian batsmen seem so obsessed with trying to play the sweep shot.
Alex Carey became the latest player to fall to the sweep, after Matthew Renshaw and Steve Smith also departed in the same fashion.
"I can't believe what I've just witnessed here," Hayden said in commentary on Fox Cricket.
"(They've gone way too far with the sweep). Way too far. These are world class players and they have everything to win and everything to lose in this session. They did it so well last evening.
"What we've seen here is a disaster for Australia. It's a disaster because they've gone way over the edge in terms of their aggressive play."
"What professional in life just hopes. No way. You've got to have a method and you have to think on your feet," Hayden said., you can read the game.
You've got about 13 people in that dug out not playing the game. All having
their say on it."
"You can read the game. You've got about 13 people in that dug out not playing the game. all having their say on it."
Smith's shot was loose, as was captain Pat Cummins who attempted a slog first ball and was bowled.
Australia is 8-110, leading by 111 and the day is only an hour and 17 minutes old.
The visitors started the day 1-61 and has lost 7-49 in the first session to completely lose control of a match they were a session or two away from grabbing by the scruff of the neck.
The Aussies lost 5-10 off 27 balls and then 4-0 from 11 balls.
It's been a humiliating effort, but it remains to be seen whether a total of 120 or 130 could be defendable?
4.00PM: INDIA IN COMPLETE CONTROL AS JADEJA RUNS RIOT
Matthew Renshaw, Peter Handscomb and Pat Cummins have departed in successive overs as Australia collapse in spectacular fashion in Delhi.
Since play resumed on day three, Australia has lost 6-34 and are now 7-95 and on the verge of bombing out of the game.
The lead is 96 but it's now up to Alex Carey and the tail to build any kind of respectable total for the bowlers to defend.
Undoubtedly batting has become more difficult, but Australia needs at least 150-200 to be a chance.
It's an alarmingly long tail too with no Mitchell Starc.
Renshaw was out trying to sweep Ravi Ashwin but became his latest lbw dismissal.
Next over Ravi Jadeja bowled an absolute gem to spin away from the right-hand Handscomb and take his edge, only for Virat Kohli to pocket easily at slip.
Then very first ball, Cummins was out playing a reckless shot to Jadeja putting the Indian left-arm wizard on a hat-trick.
Cummins attempted to whack Jadeja out of the ground, got nowhere near it and had his stumps cleaned up.
Renshaw was in the side as a concussion substitute for Warner and made just 2, while Handscomb got a duck.
Australia lost 4-0 in the space of just 11 balls. In an hour's play, they had lost six wickets. It was about as catastrophic as it gets after being in a position of power to start the day.
3.49PM: AUSSIES ROCKED IN DELHI
Marnus Labuschagne is out as India start to pin Australia to the ropes.
Out for 35, Australia has lost three wickets to start day three and are now 4-95 and leading by 96.
Ravi Jadeja crashed through the defences of Labuscahgne with a delivery that stayed low and he was out bowled.
Australia is still capable of fighting its way to a competitive total given the deteriorating nature of the pitch … but they desperately need a partnership.
A total of 200 could be defendable. But Australia is under massive pressure and in danger of collapsing.
Labuschagne had only minutes earlier been given a life on 33 much to the chagrin of Indian master Ravi Ashwin.
Shreyas Iyer was at short leg and got a good look at the leg-side deflection – but couldn't get a hand to it as it sailed through his legs.
3.30PM: SMITH FALLS AFTER MIND GAMES
Steve Smith has fallen to a contentious lbw decision to leave Australia in a precarious position on day three of the second Test.
Smith was given out on-field, with DRS confirming his dismissal by the narrowest of margins on umpire's call.
With Smith gone for 9 – once again to the magical Ravi Ashwin – with Australia 3-85 and leading by 86.
In the first innings and the first Test, Australia lost wickets and clumps, and desperately need to find a partnership to steady the ship after Travis Head fell in the first over of the day.
3.15PM: ASHWIN'S MIND GAMES
Ravi Ashwin has given Steve Smith a silent Mankad warning on day three.
The Indian spinner did the same to Marnus Labuschagne in the first innings, and is trying to play mind games with the Australians.
Ashwin stopped on his follow through and immediately turned back to his stumps, as if sending a silent message to Smith that he will Mankad if the batsman strays out of his crease.
The action was met with a big smile from Smith.
Ashwin tries the tactic from time to time, potentially as an unsettling tactic.
It was unclear whether Smith had actually left his crease early.
3.05PM: HEAD GOES FROM HERO TO VILLAIN
Travis Head has fallen in the first over of the day in a massive blow to Australia's chances of taking the game by the horns.
The flashy left-hander looked like taking the game away from India with the way he was batting late on day two, but Ravi Ashwin struck immediately to put Australia back on its heels.
Steve Smith and Marnus Labuschagne now shapes as a monumental partnership in the context of the match.
Australia is 2-67 and leading by 68 runs.
Head made 43 off 46 – a brilliant cameo knock – which could make it difficult for Warner to return in the next Test, even if he recovers from a fractured elbow.
'NO GUARANTEES' AS BRAVE WARNER FACES MORTALITY
– Robert Craddock
David Warner is not what he was but there is one trademark quality he hasn't lost … his toughness.
News that he was concussed and also had a broken arm while making 15 on day one of the Delhi said a lot about the fact that the warrior spirit in him hasn't faded even if his touch seemingly has.
Warner is still up for the fight but the challenge is greater than ever as bowlers, sensing his decline, are targeting him with the aggression he once used to unleash on them.
Mohammed Siraj uncorked a fierce bouncer attack from nowhere on day one of the Test in what seemed a premeditated plan to unsettle Warner, a most unusual tactic on flat Indian decks.
The fact that it worked means there will be more of it on the menu. The sharks are circling.
So what will the selectors make of his arm, his head, his form and his future?
Australia would ideally not want Warner finish his career being subbed out of a Test and there is no doubt no decision will be rushed without widespread consultation.
But there are no guarantees in Test cricket. Ask Brad Haddin, who withdrew from a Test in England to be with his ill daughter and he never played again.
Usman Khawaja got recalled because Travis Head got Covid and Marcus Harris got squeezed out indefinitely after Khawaja caught fire.
Sentiment and credit points are never ignored but winning matters most, especially in the big series.
And Head himself, looked as fluent as a mountain stream when he opened the batting in Warner's absence on day two after Warner was ruled out of the game.
His rollicking 39 not out off 40 balls made him look made for the role.
Now the selectors have made the huge decision to recall Head after dropping him for the first Test, how could they possibly drop him if he turns this strong start into a major score?
Two key decisions will be made on Warner's future — does he return for this series with his slightly fractured arm and concussion issues and does he tour England last this year?
Australia's resurgence on day two of the Delhi Test could help Warner.
If Australia wins this Test they may be reluctant to rock the apple cart by dropping such a senior, long serving player when the boat is riding high in the water even though the end is clearly nigh.
Warner has been one of Australian Test cricket's greatest warriors but the strain of being an all format player may have taken its toll.
Before leaving for India he admitted to being exhausted.
His boyhood buddy and opening partner Khawaja said earlier in the summer that it simply made sense that although he and Warner are the same age Khawaja may have had more petrol left in the tank because he has not been travelling the globe as an all format whiz for the past decade.
At his best Warner radiates hostile vibes which unsettle opposition attacks but keen judges such as Test batsman and Fox Cricket analyst Mike Hussey have noted a stark change of tempo.
"He just doesn't look himself at the moment,'' Hussey said on Fox Cricket.
"He looked tentative. Took him 21 balls to get off the mark and that was the one that got him in the head and that was a real nasty blow. And again he's just very late on that ball and not looking for the short ball at all.
"At his best he comes out, he's positive, he's aggressive, he's putting the pressure back on the bowlers no matter who they are, no matter what the conditions are.
"We've seen him play some amazing innings on difficult pitches in the past. But here he just looked a bit tentative. He just looked to hang in there and survive. And that's when you've got the likes of Shami and Siraj, they're going to smell that and they're going to come even harder at him and eventually got his wicket.''
Originally published as India v Australia: Second Test, day three, live updates from Delhi