Get this: A short-form video that takes less than 3 minutes to create has the potential to make a brand go viral. 🤯 That is the kind of wizardry magic of short-form videos.
People love watching videos, but over the past decade, human attention spans have dwindled.
Cue the antidote: Short-form videos. And the three major short-form video platforms on the video marketing battlefield? TikTok, Instagram Reels, and YouTube Shorts. Between them, there is a lucrative opportunity for brands to go "all-in" with this trending content format.
But how?
We've distilled some of the best actionable advice to help you master short-form video content in 2023.
What is Short-Form Video Content?
Short-form video content refers to videos that can last a few seconds to a few minutes. Typically, they are under 60 seconds long, with an optimal length between 31 and 60 seconds, according to Hubspot's 2022 Video marketing report.
TikTok videos can last up to 10 minutes. Instagram reels can last up to 90 seconds. YouTube shorts can last up to 60 seconds.
Getting Started With Short-Form Videos (the hardest part 😮‍💨)
Many brand owners, just like you, are experiencing the same pain points and feeling the psychological barrier to creating short-form videos. You "know" you should do it, but starting is the hardest part.
But here's the thing: don't overthink it. You have to get started in the first place to learn what works and what doesn't for your brand and target audience.
Before you get started with short-form video marketing, reframe your thinking:
Don't be afraid to post content, even if you're not sure what will work
If it doesn't work, don't be discouraged
Focus on creating a variety of content when starting out
Don't worry about the quality of your content at first, be consistent
You will always be fighting against algorithms. Focus less on that, and double down on creating content that's great
The single most important lever you can pull to succeed with short-form video: CONSISTENCY.
What does consistency look like? Post at least once a day to grow organically, preferably 2-3 times.
Achieving consistency also requires a solid process to maintain a steady flow of creative assets. Are you going to work with ambassadors, influencers, and creators? Or will you hire full-time employees to create in-house?
The Routes Of Scaling Short-Form Video Creation
Deciding on the right route for you to create short-form videos depends on personal preference, budget, and time.
You could:
Hire an agency or video production company
Leverage influencer marketing (i.e send free products to influencers)
Work with ambassadors
Hire creators on Upwork or Fiverr
In-house marketing team
Generate user generated content
Want the nitty gritty on agency or video production recommendations? Or how to set up a studio for less than $2,000? You'll learn from first-hand experience on these exact topics in the ECF community.
Short-Form Video Best Practices
If you want to leverage short-form video in your social media marketing strategy, follow these best practices:
Post consistently: Aim for at least once a day to grow organically, but preferably 2-3 times if you can
Keep your short videos…short: Keep your videos short, with clips of 1-3 seconds and a total length of 8-30 seconds long.
Provide catchy CTAs: Add CTA at the end of videos or in the caption. If you want to move viewers between platforms, you can include a CTA like "view additional info and dates on our IG" at the end of videos. Another way is leveraging a giveaway where followers must enter on IG instead of TikTok or vice versa.
Share incentives: Add an incentive in your bio and link a simple form (these tend to work best). You can also push people to sign up through the link in your bio if you add the incentive as a CTA to check out the link in your bio at the end of videos or as a pinned comment.
Engage with your community: Be the first person to comment on your own video after you post. Ask a question to prompt your followers to respond.
Go live consistently: This can help build a strong community and increase engagement! Share behind-the-scenes content and make your followers feel part of the business.
Jump on trends quickly: Post within two days of seeing a trend as the lifespans are short.
Edit & repurpose relevant content: You can edit within the platforms, but if you want something a bit more polished— use CapCut; it's free. And will help you export the video in the right aspect ratio too.
Capitalize on viral videos: If one of your videos goes viral, lean into that creative and go extra hard on engaging with the community and posting. Your account is likely going to get more views during this time.
Short-Form Video Trends: 10 Popular Types of Short-Form Videos You Can Leverage Today
Problem > Solution Format: This format presents a problem that the viewer may be facing and offers a solution to that problem.
TikTok Made me buy it: In this format, the creator shares their experience of discovering and purchasing a product through TikTok.
TikTok Response Strategy: Involves using a TikTok response bubble in your hook that leads into the how-to/benefits of your product.
Stepwise Ad (The three reasons why): Presenting three reasons why the viewer should consider a product or service.
2 person/ 1 person strategy: Two people (or one person in multiple roles) presenting a product or service in an engaging way (i.e a skit).
Brand challenges: Where a brand challenges users to create TikToks using their product or following a specific theme.
Influencer ads / UGC: Leveraging influencers to promote a product or service in a natural, authentic way.
Product teasers: Creators share a brief preview of a product or service to build anticipation and interest.
Behind-the-brand videos: Showing the people, processes, and values behind a brand to create a more personal connection with audience members.
Explainer videos, DIYs or How-to videos: Providing step-by-step instructions for completing a task, solving a problem, or learning a new skill with the aid of your product or service.
Watch this video for the exact script/ad format to follow for each of these video formats.
No matter what short form video format you choose, remember this: By all means, create informational and educational videos to target the bottom of the funnel, but to truly create connections and grow your community— you need to get personal.
"The big reason [I've been successful with YouTube] is that this is honest about who I am, and I'm always preaching that businesses need to own their image and work in concert with their own personal beliefs. No one is a fan of a channel because they like the products… it's because they hold common beliefs with the channel talent and make the connection that way." —ECF community member
Interesting side tangent: How Personal Post-Purchase Videos Increase Conversions
Short-form Videos vs Long-form Video Content: Which One Is Better?
Both longer videos and shorter videos can be beneficial to helping you build a broader audience and build stronger brand loyalty.
Cassey Ho, founder of Blogilates and activewear brand POPFLEX is a prime example of combining short form videos with longer videos in her video marketing approach. Her daily workout videos range from long form 20-30 minutes to quick 5 minute workouts. Alongside, her YouTube Shorts feature a range of short form branded content that covers: day in the life content, behind the scenes, trending audio, giveaways, and branded challenges.
Here's are some results of a brand within our ECF community that built their brand on short-form videos and then created a new upload schedule of 1 x longer video per week and 5-7 short-form videos per week.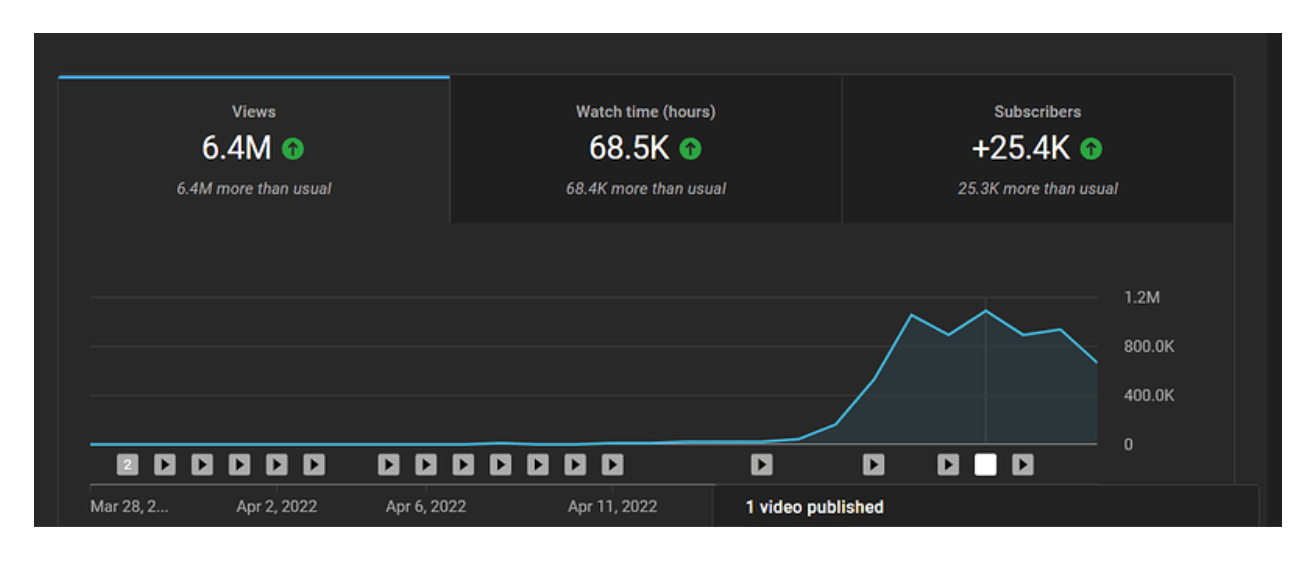 Choosing A Platform: Should I Be Posting On YT Shorts, IG Reels, TikTok Or All Of Them?
They are all considered "the best platforms." Although, one platform may work better for you in the beginning.
Channel diversification is key. If you're not already aware, there's rumblings of a US TikTok ban. While it's all mainly speculation, it can't hurt to start thinking about how you could diversify content creation to all channels by crossposting content to IG and YT (that is, if you're only on TikTok).
Organic vs Paid Ads: They Can Both Work, But Do You NEED to Spend The $$$ Is More The Question
Many brands in our community have successfully grown their businesses without relying on paid ads. These brands often have a strong community of followers on platforms like YouTube, Facebook, and Instagram.
Sure— paid ads can be effective, but they may not always produce the best results for every business.
For example, one ECF community started running FB/IG ads early last year, scaled spend beyond $50k/mo, then pulled the plug after 3 months. This year they did the same thing with TikTok ads.
For them, it wasn't worth it. The customers they were acquiring weren't as good as the ones they were attracting organically. Once they started ads, returns went up, custom service tickets went up, and reviews started coming in below 5-stars.
Growing an audience/community through authentic content consistently over time provides an unfair advantage over the long-run. No one can outbid you. But, it's more challenging than paying for attention.—ECF Community Member
Separate the account you run ads from
If you are going down the path of ads, create a business account for running ads and then a personal account for organically growing your community.
👉🏻 The TLDR of it is this: The platforms want to make money off your brand, so as soon as the algorithms notice you have switched from creating ads on their platform to posting organically, you may notice your organic reach gets cut.
"I recently launched an organic only Insta. That account gets as many Reels views as my main account that I advertise on. Main account has over 50k followers. Organic account has under 400. The throttling for advertiser owned accounts is pretty dramatic. Same is true on TT." — ECF Community Member
4 Brands Built On Short-Form Video Success & Their Learnings
Our community is constantly exposed to incredible eCommerce success stories of other brand owners. Here are four of these journeys and their top takeaways to short-form video marketing.
1. MiniKatana – A DTC Sword Company ⚔️
Isaac Medeiros, the owner and founder of MiniKatana.com, is a valuable member of the eCommerce Fuel community, and he was recently featured on the podcast. 🎙️
In less than two years, Isaac grew his business from nothing into an 8-figure juggernaut. His team can create 200 short-form videos a month in addition to special video projects like cutting a BB in midair.
Their tips for creating great short-form videos:
The three most important metrics for short-form videos: watch time, watch time, & watch time!
Start with TikTok or YouTube Shorts. Try posting 30-60 videos in 30 days and see if you have traction. If you don't get traction try a new angle with a new channel.
2. A well-being drink mixes brand 🌴
It took them four months to get to 80k followers on TikTok, with majority of growth coming from their first viral video. They followed the mentality of "create great content you and your audience want to watch."
Their tips for creating great short-form videos:
When editing content, make sure every second counts. They kept their videos in the range of 20-30 seconds long.
They created a variety of content to begin with. Once something worked, they did everything possible to scale and pump out more of this. You don't have to change heaps, just slightly adjust the intro/hook.
They plugged their products sparingly and focused on entertainment and education first.
3. A dropshipping brand selling a niche product 📦
They did $2.5m entirely with TikTok and Instagram short-form video, and spent $0 on ads since launching their business. They also had no other choice, because FB ads wouldn't let them advertise the product they started with. Second part of this success story is leveraging their organic exposure on TikTok (20-30m monthly organic views) and 10m on IG to getting to 6.1M views on Youtube over 7 days.
Some guidelines they followed:
Always find ways to provide value. Interact with comments and answer questions as much as possible. This will drive watch time as people will interact more.
They didn't care about trends much (especially in a niche business). Focus on finding what gets you views without a trend.
Ignore every metric other than watch time.
4. A DTC toy business 🤖
This brand focused on creating short-form videos aligned with pop-culture trends and audio. He noticed YT was rewarding consistency, so they started stockpiling their TikToks for a few months. Then, they posted 3-4 times a day over three months. Their views went from ~5k per video to 1m+.
Their learnings:
They jumped from long-form videos (~10 minutes) to short-form. Every video was "on trend" regarding pop culture and audio. This gave them a huge advantage by allowing the masses to engage in their content, even if they didn't particularly care for the product they were selling.
Make it entertaining. Instead of thinking, "how do I promote this product?" think about an idea or concept for a viral video, and add your product if you can.
Your Brand's Short-Form Video Success Formula
Create a page for your platforms of choice.
Start following other creators in your niche and engage with the people who engage with their account.
Decide how you'll create the content (i.e. in-house, influencers, creators).
Follow the tips and guidelines for creating content we shared in this guide (i.e. length, storytelling, ratio aspects).
Set up a schedule to post at least once a day, preferably 2 to 3 times if you can, on each platform you choose.
Repurpose and cross-post your content.
If you want to experiment with ads, set up separate accounts for this not to hinder your organic reach.
Pay attention to average watch time and views to help you make creative iterations and understand what's working.
Keep up consistency.
The processes, the strategy, and the creative are in your control. Crush these, and you'll be well on your way to building a solid community. With an engaged community, the algorithms will reward you. 🚀
If you want more tips and resources to help grow your eCommerce business, join our community of 7-8-figure brand owners. All our members are vetted practitioners—ensuring everyone has a deep, meaningful eCommerce experience to share. Sound interesting?  Apply for membership and join us today.