Today the lines between physical shopping and digital commerce are dissolving as more and more sellers embrace a hybrid business model that combines their eCommerce sale channels and physical retail locations. The Buy Online Pick Up In-Store (BOPIS) delivery option vividly illustrates how merchants successfully bridge the offline and online shopping experiences for their customers.
Once a response to the COVID-related lockdown measures, the pickup retail trend is still relevant in a post-pandemic world, reflecting a win-win for consumers and sellers alike. While baiting shoppers with the convenience of getting the product how and when they see fit, BOPIS is working as a strong customer retention strategy for omnichannel sellers.
This article breaks down how Buy Online Pick Up In-Store works for consumers and how it helps eCommerce businesses gain customer traction. We also share some helpful tips on creating an efficient BOPIS strategy to successfully merge your online and physical store operations and make the most of your omnichannel customer engagement.
How Does BOPIS Work for Retailers?
Let's first crack the meaning of the BOPIS acronym. As the name suggests, "Buy Online Pick up In-Store" (aka "Click-and-Collect") is an order fulfillment option that allows customers to pay for the order online and get the item in the physical retail store nearest to their location.
The Buy Online Pick Up In-Store shopping process falls into five simple steps:
Shoppers browse products online and buy them through your eCommerce website. 
They choose the BOPIS option at checkout. 
Customers select their preferred physical store location, date, and time to pick up the purchased item.
You send customers a text message, push notification, or email when the order is ready for pickup.
Customers collect their purchases from the selected pickup location.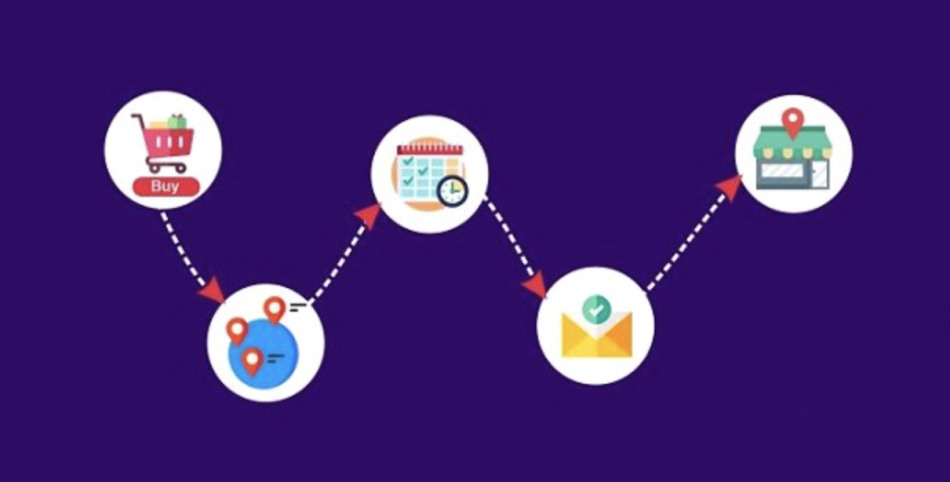 Implementing the Buy Online Pick Up In-Store fulfillment looks pretty straightforward. Sellers with an eCommerce website and at least one brick-and-mortar store offer BOPIS as an extra shipping option.
However, building an efficient BOPIS strategy is not that simple. And, before you give it a shot, you'd better have a complete picture of all its benefits, pitfalls, and, more importantly, the reasons for sellers to have a BOPIS option in their online stores.
Why Are Sellers Adopting the BOPIS Option?
By merging online and offline presence in the way BOPIS demands, sellers naturally adopt an efficient omnichannel business model capable of attracting, converting, and retaining more customers, than a single-channel business. The profitability of omnichannel strategies comes as no surprise when you look at the following stats:
Top 5 Omnichannel Stats and Facts
BOPIS is not the only order fulfillment option that helps merchants connect their eCommerce sales channels with brick-and-mortar storefronts. Here are some other approaches that sellers adopt as part of their omnichannel business model:
BOPAC (Buy Online Pickup At Curb) focuses on curbside pickup. Customers get their purchases at designated parking spots.
ROPIS (Reserve Online Pickup In-Store) shifts the payment transaction to the physical store. A buyer reserves an item from an online store inventory to later pay for it on the day of pickup at a brick-and-mortar location. 
BORIS (Buy Online Return In-Store) simplifies reverse logistics. Turning brick-and-mortar storefronts into local return centers gives commerce businesses advantages over purely online competitors.
BOPIL (Buy Online Pick Up in Locker) has much in common with BOPIS, only less hands-on. Instead of standing in line at a service counter, customers get their online purchases from a locker pickup location at a seller's physical store.
It is also worth mentioning that heightened customers' delivery expectations triggered a shift toward omnichannel fulfillment. The pandemic forced consumers to change their shopping habits and compelled sellers to adapt to those new demands. Today, the current economic uncertainty keeps modifying customer behavior, urging retailers to adopt fulfillment strategies that profitably support their brand experience and consumer expectations. And Buy Online Pick Up In-Store is one such strategy.
What Is BOPIS for Customers?
According to the National Retail Federation (NRF) survey, 83% of consumers admit that feeling at ease while shopping is more important than five years ago. Today's customer embraces and expects convenience at every stage of their buyer journey: from one-click ordering to delivery timeframes. The trickiest thing is that convenience isn't a one-size-fits-all solution. It varies based on shoppers' individual preferences. BOPIS adds more options for the customer to choose from and personalizes the purchasing process for online shoppers.
And this must be the critical reason for 70% of the NRF survey respondents saying the BOPIS option has improved their shopping experience significantly. Let's take a closer look at how Buy Online Pick Up In-Store caters to customers' needs.
BOPIS Benefits for Consumers
No shipping costs. As per the Easyship survey, 73% of buyers have abandoned a cart because they had to pay a delivery charge. Because of high fuel prices, shipping rates are the thing customers would prefer to avoid while buying the product online. BOPIS helps consumers manage the financial burden of inflationary price hikes. 
Quicker pickup. With unprecedented supply chain disruptions here to stay, the BOPIS option is a perfect solution for customers who want to avoid extended delivery timeframes. 
Prevention of package theft. Since deliveries are not being left unattended on customers' porches, the risk of a package being stolen is minimized. 
Ease of returns. If a purchased item doesn't meet customers' expectations, they can return or exchange it immediately in the physical store instead of shipping the order back.
Top BOPIS Benefits for Sellers
Boost eCommerce and In-Store Sales
Implementing the BOPIS fulfillment method helps sellers boost foot traffic and develop potential upsell or cross-sell opportunities. Among the roughly 9 million U.S. consumers who acquired their most recent online orders on-site, 47% say they will buy more products on their trip to pick eCommerce purchases in-store or via curbside. Another 17% say they purchase additional items when picking up their orders in-store some of the time.
Improve Customer Experience
By diversifying fulfillment options with BOPIS, sellers add flexibility to the shopping process, giving customers peace of mind while purchasing high-priced items online and getting them in-store.
While customers enjoy the convenience of online shopping and the cost savings of in-store pickup, sellers view BOPIS as another way to slash churn and drive more repeat purchases.
As an online retailer, you are constantly looking for more ways to fulfill your customers' expectations at each step of their buyer journey: from intuitive website design to personalized payment methods to smooth order fulfillment. 
Don't leave profits on the table by overlooking the importance of a good shopping experience. With X-Cart, you can deploy impeccable user experience across your entire eCommerce website:
real-time smart search opportunities, 
intuitive and mobile-friendly themes, 
multiple payment methods, 
flexible Buy Now Pay Later options, 
high-performance VPS hosting for faster page load and 99,99 % uptime of your online store.
Need a Shortcut to a Perfect Buyer Experience?
Gain a Competitive Edge
Omnichannel fulfillment services like curbside or in-store pickup give eCommerce businesses a much stronger value proposition and a competitive advantage over those sellers who don't offer enough flexibility for shoppers at the checkout. For local stores, the BOPIS approach can be another weapon against their purely online competition.
Simplify Returns Management
Sellers can also deploy a BORIS (Buy Online Return In Store) option, which will help them reduce the extra costs on reverse logistics and diminish the number of fraudulent returns.
Important note: Make sure you have sufficient in-store inventory, and timely replenish it to ensure smooth order returns for your customers.
Save on Last-Mile Delivery
Online sellers can reduce costs on order fulfillment by up to 28%. With BOPIS, retailers ship products from regional distribution centers to physical stores instead of delivering them to customers' porches, thus saving on last-mile transportation. When BOPIS orders are fulfilled using existing in-store inventory the shipping costs are already incurred.
5 Must-Haves for a Winning BOPIS Strategy
The Buy Online Pick Up In-Store approach takes more than just a physical store and online presence. It requires due diligence, thorough planning, prudent inventory management, and maybe investments in new software integrations.
So, here are five critical components of a successful BOPIS system:
1. A Growth-Oriented eCommerce Platform
If you're going to make BOPIS part of your omnichannel strategy, here are a few things you should ensure your eCommerce platform can provide:
enhanced opportunities for omnichannel selling to merge your sales channels into a single ecosystem; 
mobile-optimized themes and intuitive website design for higher customer engagement and conversion; 
seamless integrations with inventory management systems, shipping solutions, and email marketing software, to name a few.
At X-Cart, we help sellers give their customers the choice and convenience they expect while running a well-oiled and time-saving omnichannel operation.
2. Strict Inventory Control & Visibility
You'll need a unified view of your stock levels to properly manage inventory for walk-in and online shoppers and ensure a smooth BOPIS experience for your customers. Gain real-time stock visibility and control across all physical and digital sales channels with a robust integration between your eCommerce website and an inventory management system.
SkuVault is an excellent example of an IMS (inventory management system) solution that will help you connect channels, organize warehouses and manage inventory efficiently.
3. Streamlined BOPIS Order Processing
Local stores that have adopted in-store pickup strategies and offer "same-day pickup" for in-town customers can view BOPIS as a game-changer and another weapon against the competition. And a shipping platform like ShipStation can help process BOPIS orders hassle-free.
Sellers can filter pickup orders within ShipStation and exclude them from the batches to ship out. Moreover, they can create automation rules to send personalized emails to your customers, alerting them that the order is ready for pickup. If you are interested in the ShipStation shipping software solution, you can give it a try by downloading it for free and connecting it to your X-Cart online store.
4. Superb Customer Service
How you treat your customers from the moment they place their order and throughout the pickup can either make or break your BOPIS retail strategy. Online shoppers may avoid your BOPIS for the following reasons:
Consider these tips for offering top-notch BOPIS service:
Make sure you have a designated area and designated staff to deal with BOPIS customers quickly.
Have a centralized messaging system to inform customers when their orders are ready.
Provide your customers with an easy way to reach out to your store team if they have any questions. 
Optimize your returns policies for in-store pickups.
5. BOPIS Marketing and Promotion
Buy Online Pick Up In-Store is most effective when spotlighted across the entire buyer journey: from first seeing the option in the product list, to being reminded of it on the product detail page and at checkout.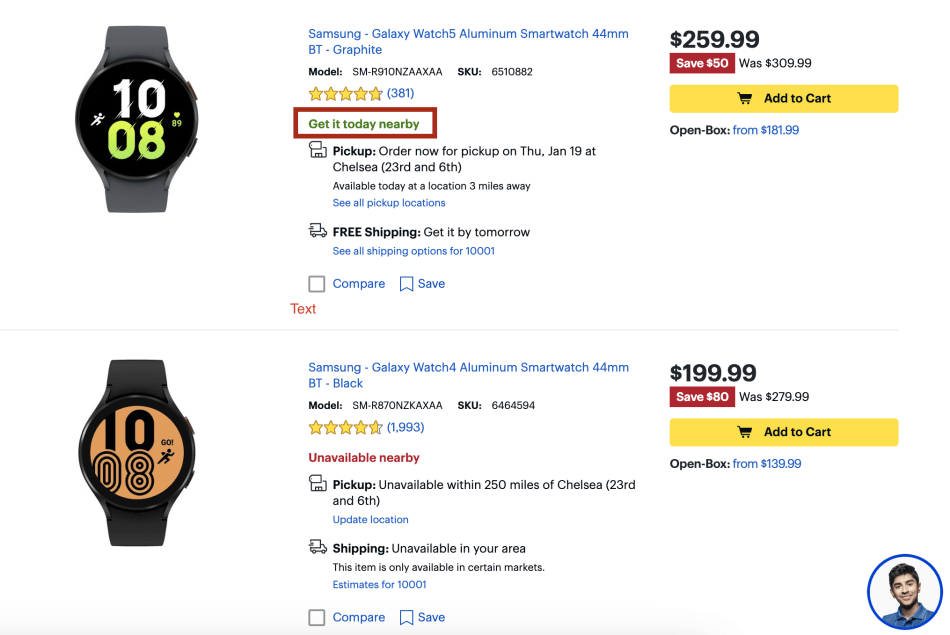 Keeping your customers engaged post-purchase is another essential and often overlooked opportunity for getting customer feedback and building customer loyalty. Use email surveys to understand the level of customer engagement and spot potential issues with your service. Mailchimp's email automation service can help communicate with your customers in a more intelligent, personalized way. In addition, you can connect and sync your X-Cart store with Mailchimp with no additional costs or coding skills required.
BOPIS FAQs
1. What is the difference between BOPIS and curbside pickup?
BOPIS and curbside pickup differ in where the shoppers pick up their orders. With BOPIS, customers pick up purchases at the previously selected physical store. Curbside pickup involves a store employee taking orders to the customers' cars in designated parking spots outside the store.
2. How to choose an eCommerce platform that offers BOPIS?
Some eCommerce platforms support in-store pickup natively, whereas others may offer integrations with third-party plugins. If this flexibility is important to your business, ensure your current or future eCommerce platform provides omnichannel capabilities, solid mobile experience, and seamless integrations with IMS and logistics software.
3. What challenges can a seller face while adopting BOPIS?
For BOPIS to work well, sellers should ensure the pickup fulfillment option is fully integrated into their business operations. The two main challenges of adopting BOPIS are the increased staff requirements and real-time stock visibility. This means you'll need to hire dedicated personnel to handle pickup orders smoothly and synchronize the inventory levels across all sales channels.
Transforming Your Brand's BOPIS Experience with X-Cart
At the heart of a successful BOPIS strategy is a complex ecosystem where various technological components "talk" to each other. This system should be powered by a high-performing eCommerce platform capable of merging online and offline experiences.
X-Cart is one such solution with boundless customization opportunities and a wide range of no-code integrations with inventory management systems, shipping solutions, email marketing, and customer experience software to help you deploy BOPIS in your online store.

In addition, we offer an affordable and transparent way to add the required functionality to your eCommerce website. Get a complete picture of how your project will be planned and estimated by the X-Cart Solution Services team, or contact us for more information.
Need an Agile BOPIS System for Your
Unique Online Business?