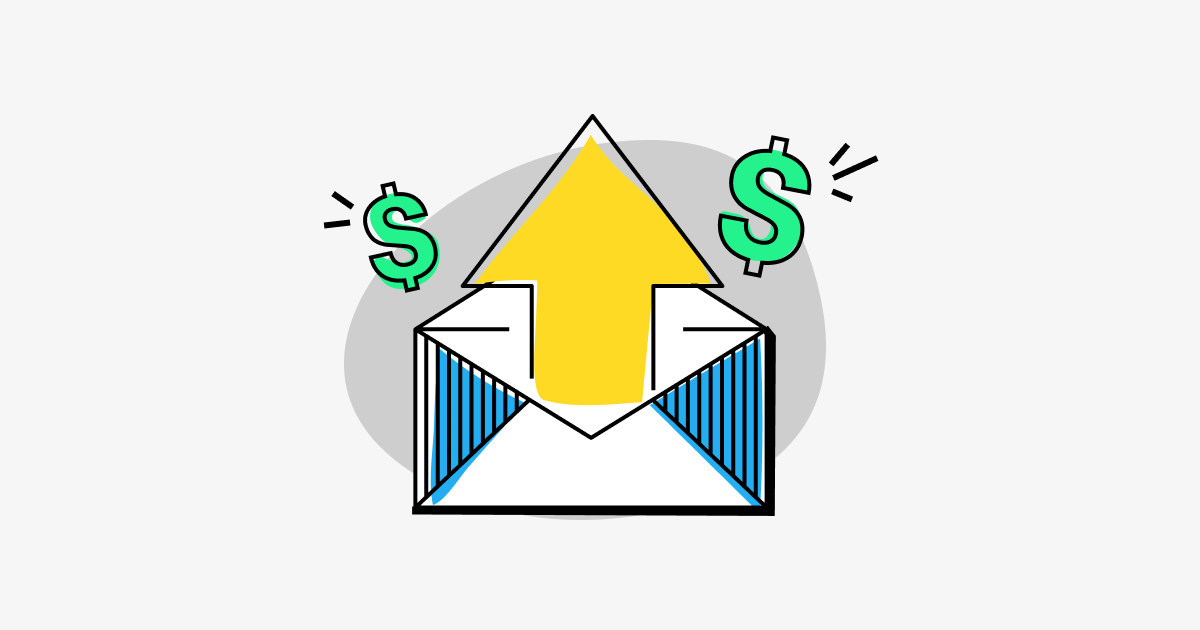 Conversion isn't everything.
Put your pitchforks away, it's still important. It's just not everything.
Don't get me wrong: conversion is and should be a huge concern for ecommerce merchants. After all, if customers aren't buying, there's no business.
That being said, new visitors to your site are lukewarm leads at best. 
There's a reason why the average conversion rate for ecommerce is 1.4%, between bounce rates, browsing abandonment rates, and cart abandonment rates, it's difficult to get customers all the way through your sales funnel.
And while increasing your conversion rate should always be a priority, it's not necessarily the easiest task to tackle.
But what if you could increase your revenue with the conversion rate you have right now?
That's where boosting your average order value comes in. Your average order value is the average amount that customers spend on your site.
Increasing your average order value is a lot simpler than increasing your conversion rate because your customers already want to purchase from you.
And sometimes, a little carrot is all you need to get your customers to purchase more and significantly increase your revenue.
What is Average Order Value? (And How to Calculate It)
Your average order value is basically the average amount that your customers spend at your store. It's pretty simple to figure out. 
Just take your total revenue during a certain time period and divide it by the number of orders you had.
Let's say your average order value sits at $115, and you expect 10,000 orders in the first half of the year. 
Imagine how much that AOV would be if we added just $4 to it?
Hint, it's over $ 40,000 more. 
What could you do with an extra $40,000 added to your bottom line?
Why AOV Matters:
Increasing your AOV is a lot simpler than increasing your conversion rate.
It's so much easier to convince a customer that already wants to purchase from you to tack on a few bucks than it is to convince a visitor to get all the way through your sales funnel.
Think about this, say you have 1500 customers per month and your total revenue is $120,000 per month, your average order value works out to $80 per order. Let's say you got each of those customers to order $5 more. 
That's an extra $7000 with half of the work. Even just two extra dollars puts you at $3000 more.
These small amounts are an easy decision for the customer, especially if the value that you're offering helps them justify the extra spending.
This is where the carrot comes in.
How to Increase your AOV:
There are tons of ways to increase your average order value, and all of them work to incentivize your customers to purchase a little more.
Test each of these tactics for best results and implement a few that work the best for your customers.
1. Upselling: Offering a Better Version of the Product that Already Interests your Customer
Upselling is the concept of trying to get a customer to purchase a newer, better, or more expensive product. The idea is to incentivize the customer so that they justify spending more than they anticipated.
While that might sound a bit more dark side than you'd like, it's really not. 
What you want to do is to show the customer the value upgrade that they would get if they spent just X amount more.
For example, if you're purchasing a computer for $1299, unless you're strapped for cash, spending $200 extra for twice the memory won't seem like that big a deal.
Apple has a great example of this with their 12-inch Macbooks.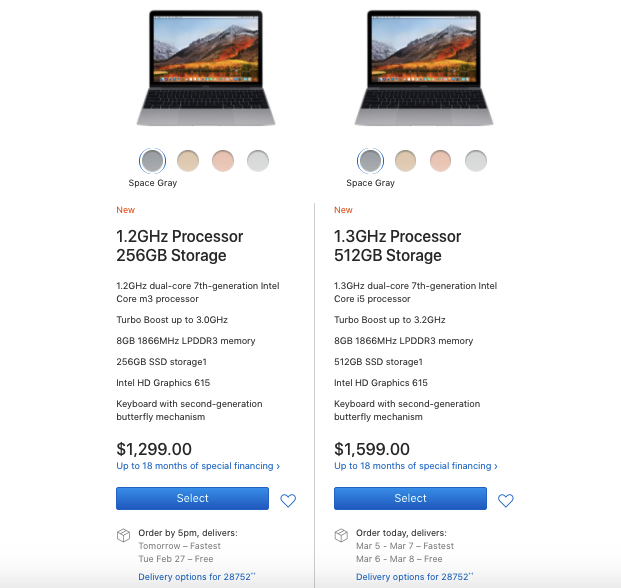 The difference in price is nothing compared to the value that the more expensive product is offering.
According to the book Marketing Metrics, upselling might work on five to 20 percent of your sales with new customers. For existing customers, that number jumps from 60 to 70 percent. 
However, even if only five percent of your new customers are spending $100-$200 more with each purchase, it's definitely worth testing for your customers.
Another great way to tack on a few bucks to your average order value is to offer complementary products (in lieu of better ones with upselling).
2. Cross-Selling: Complementary Product Recommendations to make your Ecommerce Store a One-Stop-Shop
Cross-selling is when you propose products that go well with the product that a customer is looking at or has added to their cart.
The idea is to offer a product that might also interest the customer so that they ultimately purchase a bit more than they were originally interested in.
These products can be personalized for even better results; click through rate on personalized product recommendations is twice as high as non personalized "Top Sellers" recommendations. Check out the example from Lush below: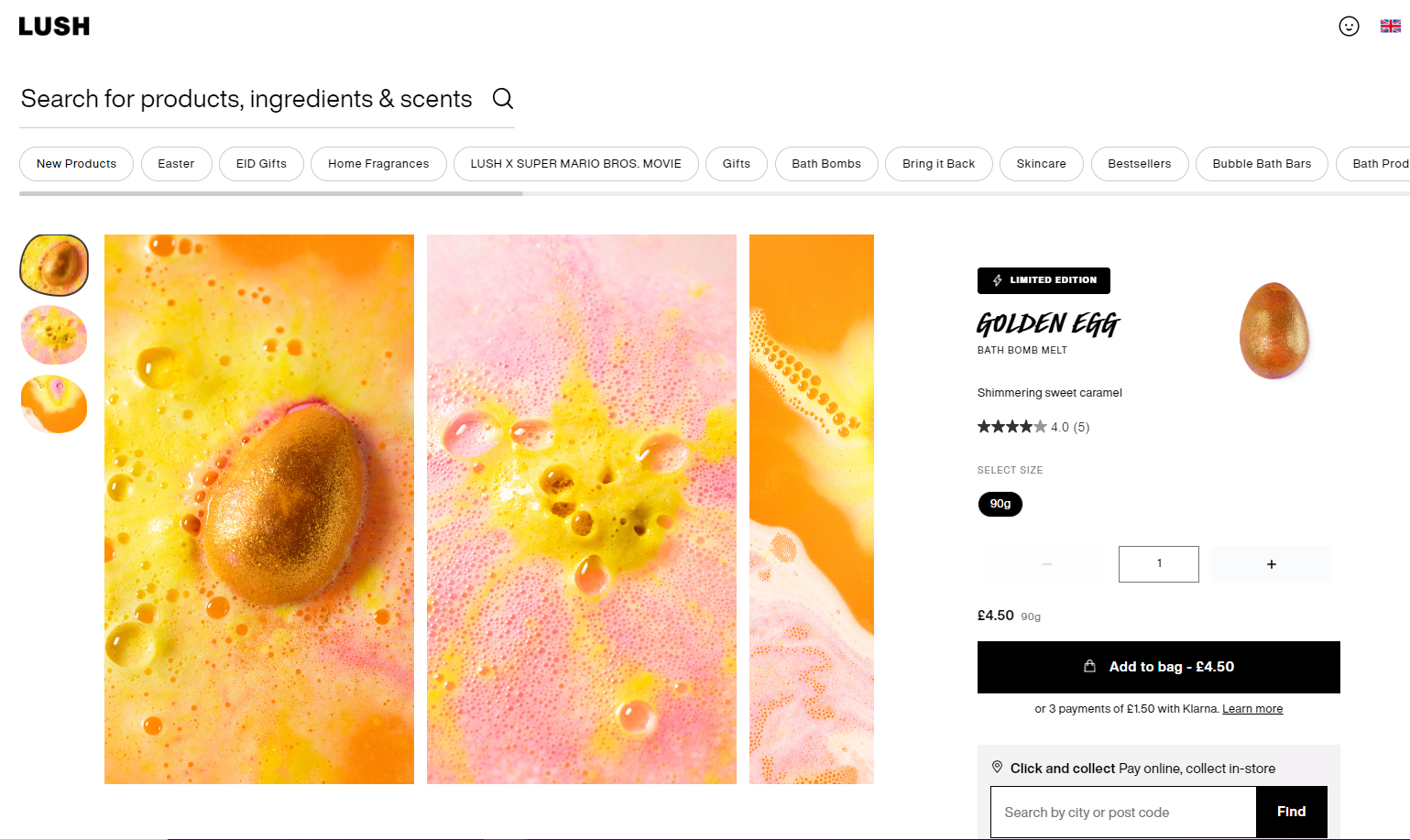 Looking into Lush's bath bombs shows you all the information you need about the product, including customer reviews. 
And if that's not enough to convince me, they offer some cross-selling product recommendations to entice me to purchase.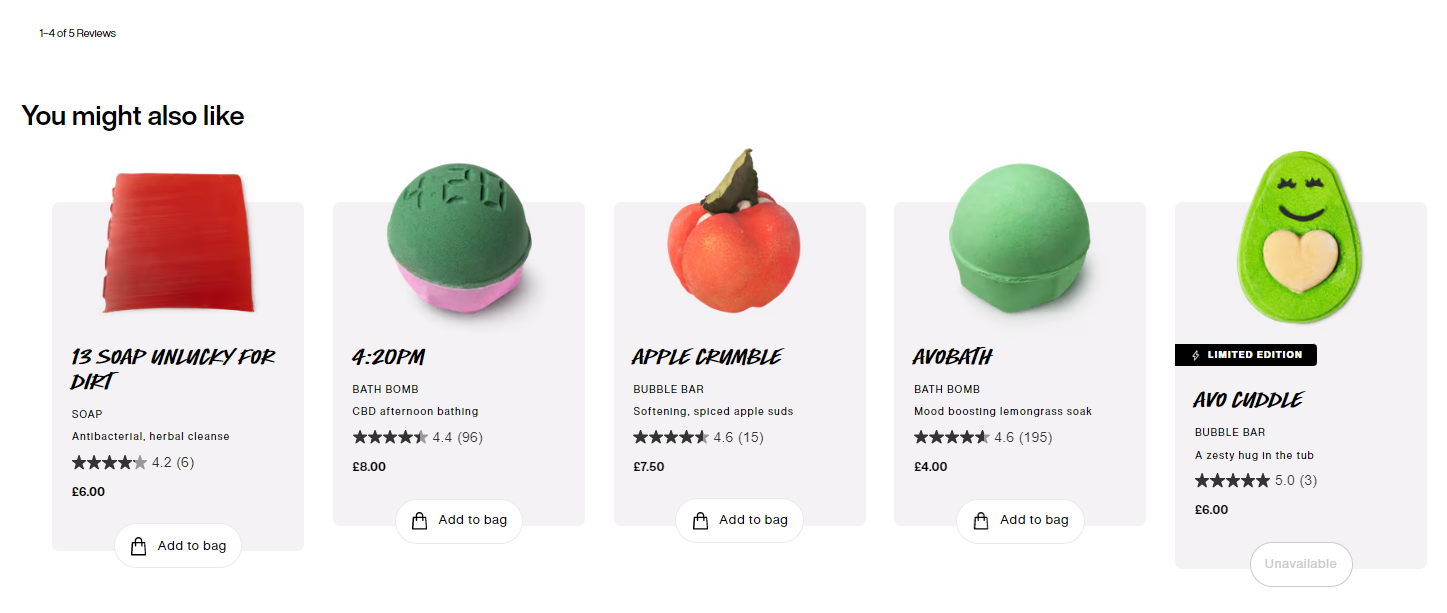 What's cool about these recommendations is that they offer other bath bombs (in case the golden egg isn't my jam), and they also offer complementary products like soap and bath bars. 
This way, I know that if I do purchase a bath bomb, I can pick up other products that are related. 
How effective is this in reality?
Nearly half (49%) of shoppers report that they've purchased a product they didn't initially intend to buy because of a product recommendation. 
And your recommended cross-selling products can be completely utilitarian. 
For example, offering gift wrap (especially around the holidays) is a great way to offer convenience to your customers, while driving your average order value up a few dollars at a time.
If your product requires batteries, add them on! There's nothing worse than a parent buying a toy for a child and forgetting to grab batteries.
The best part of this? Your customers will probably thank you for reminding them to do so!
3. Bundles galore! Creating Kits That Incentivize Higher Purchase Counts
Another fantastic way to drive up your AOV is to offer bundles on your site. Bundling your products is when you propose several products to your customer in a one-price group.
Harry's, for example, offers several bundles for when you need to purchase a full kit of their products: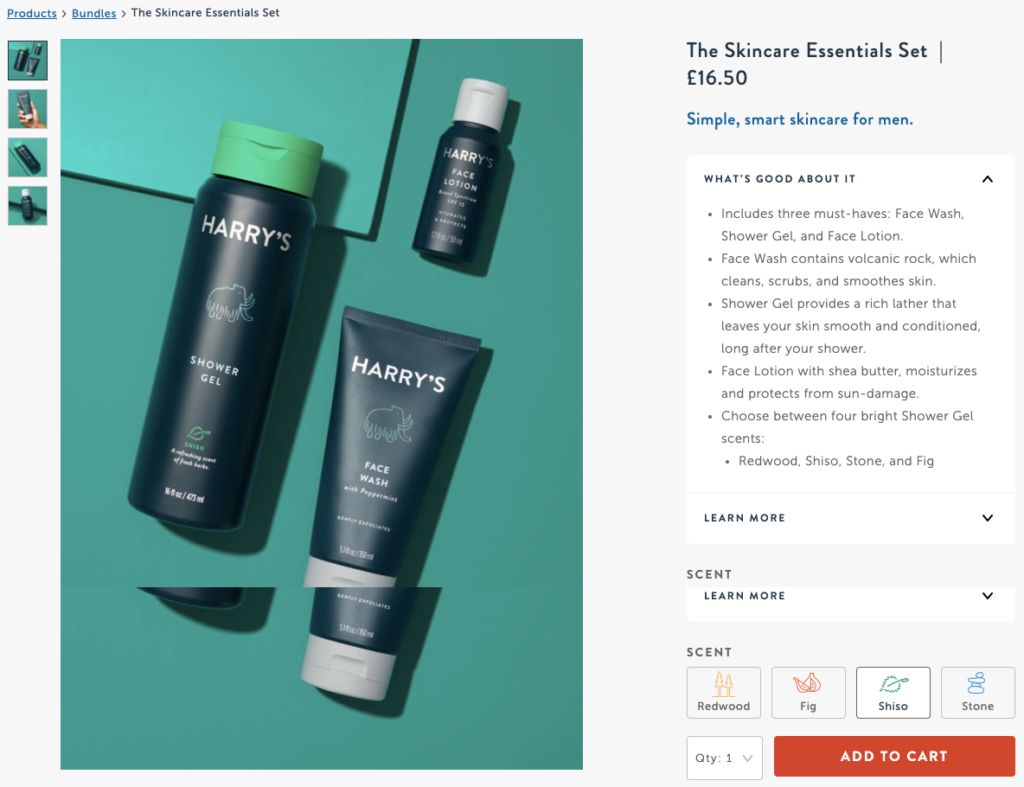 This is a clear example of understanding your customer. Harry's understands that if someone is looking for face wash, chances are, they also need a moisturizer and body wash too. 
So for added convenience, their customer can purchase all three together at once (and typically, cheaper than if they'd purchased them separately). 
The idea is to bundle products that are directly related to one another, and to remove obstacles if customers want to add them directly to their carts. 
Bundles can be super effective when you've got two or more products that go very well together. This is really simple if you sell apparel, especially if you have a lookbook with your fashion suggestions.
As we saw with upselling and cross-selling, the customer will be willing to add extra items to the cart if it's more convenient to order them directly from you. 
That being said, don't go crazy with your pricing; a significant price increase will be enough to make the customer say, "I'll find that elsewhere."
The key with bundling is to make it worth the customer's while. If the extra items don't give any extra incentive to order, for example, if it's not cheaper or easier to order from you, they'll never work.
In this case, you have to incentivize your customer to add more to their cart yourself.
4. Free Shipping & Discount Thresholds: The Carrot to Boost your Average Order Value
One great way to get customers to purchase a bit more is to offer a discount or free shipping threshold. Think about how much you want to add to your average order value, and offer a discount so that you're hitting that amount when the customer purchases.

Going back to Lush, we can see that they've got an attainable, but elevated free shipping threshold. 
Given that a lot of their products sit in the $15 range, it only takes about three products to get to that threshold. 
And if a customer falls just short of the threshold, they're far more likely to add on a $6 bath bomb than pay for the shipping, although it would likely be about the same cost.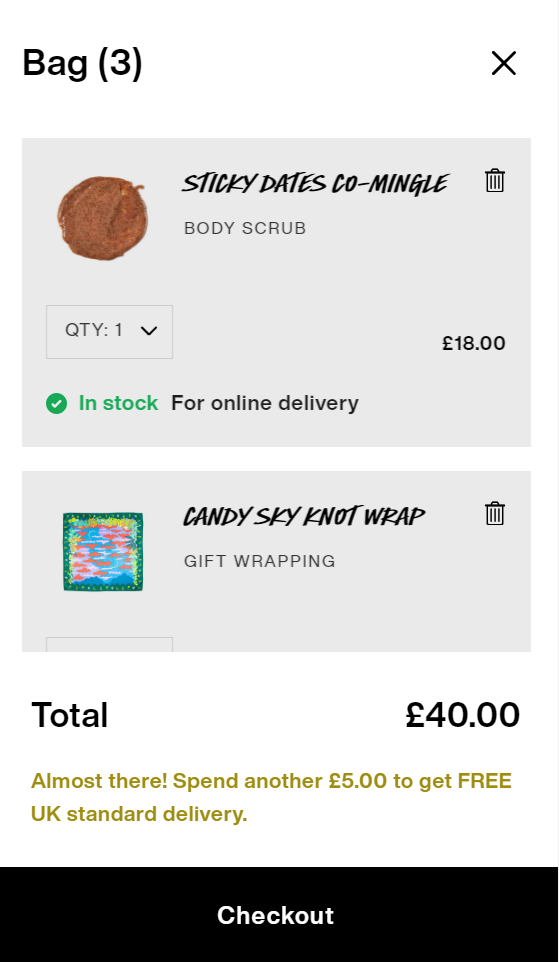 Note how they reiterate the free delivery threshold (with how much you'd need to spend in order to meet that threshold. 
This is the perception of value that you can offer to your customers. 
It's far more attractive to get free shipping plus another product than it is to spend less overall and pay for shipping. 
Your incentive doesn't even need to be free shipping. You could also offer a discount threshold. 
British ecommerce store, Very, for instance, offers 10% off when you spend £100 or more in their home and garden section:

Even a slight discount or incentive could be enough to get your customers to spend just a little more and increase your AOV. 
5. Loyalty and Rewards Programs: Customers Spend More When They Feel Appreciated
A loyalty program rewards your customers for choosing to shop with you over the competitor. The idea is to create a program based on how much the customer spends, and to make it more expensive for the customer to shop at the competitor's store.
You can set up a loyalty program based on tiers that customers need to reach to get their discounts. This will incentivize your customers to spend a little more to reach that next level.
Torrid gives us a great example of a rewards program that incentivizes getting to that next tier. Basically, the more you spend, the more discounts you get. 
Torrid also not only regularly discounts their products, but they also set certain time periods to use "Torrid Cash" — a use-it-or-lose-it promotion.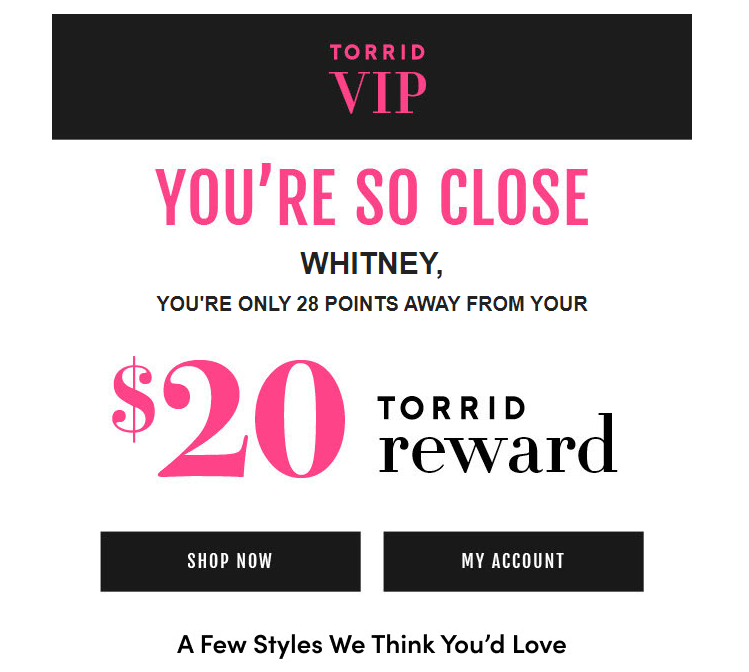 Torrid doesn't come empty-handed. In lieu of making their customer do the work of finding a product that would suit them and get them to the next level, they offer up a few relevant product recommendations.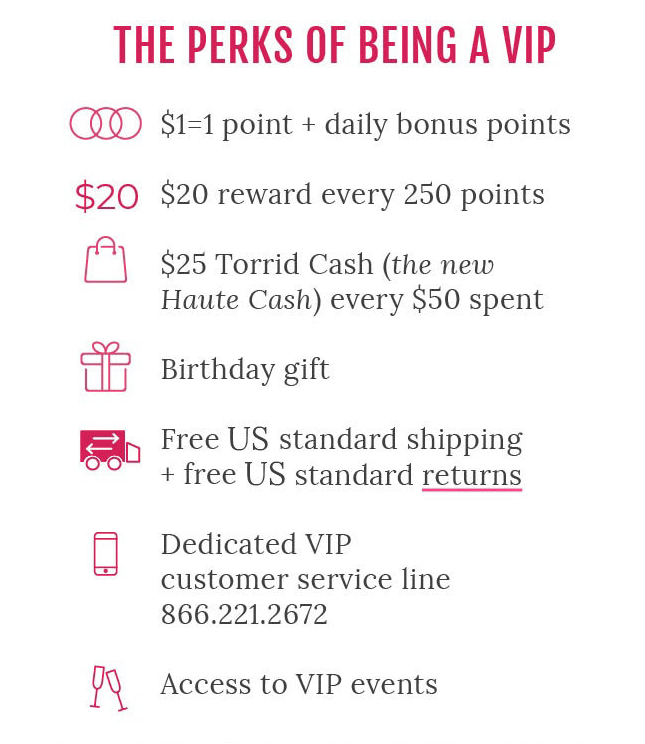 Torrid also reiterates the perks from getting to VIP status. This offers added incentive — after all, you're only 28 points away from getting all these benefits. 
Torrid even takes their rewards program a step further. Customers can earn points by simply clicking on an email. 
This is a great idea to snap up: Not only does it offer a no-commitment way for customers to earn points, but Torrid Cash only works if a customer purchases something. This helps incentivize customers who haven't been ready to buy to make their first or next purchase. 
3 Lesser-Known Strategies for Boosting AOV
1. Offer a Monogramming Service
People are willing to spend more on custom or personalized products.
They work particularly well as gifts and you will see sales rise around the holidays.
This kind of thing is big business.
By 2027, the global personalized gift market is predicted to reach USD 38.66 billion.
You can get in on the action by offering the option of a monogramming service at an added cost.
Luxury fashion brand, Burberry, does this for many of their items:

To increase your AOV, offer personalization as a specialist service or as an add-on at the checkout stage.
2. Create a Personal Shopper Bot 
When you go into a brick and mortar store, sales assistants always approach you.
It can be a bit annoying. But, let's be honest, sometimes you genuinely need some assistance.
The same is true for online stores. In e-commerce, sales assistants are available via live chat. The great thing about live chat is that customers are 4.6 times more likely to convert after live chat support. And they spend 60% more on average.
That is a huge potential increase in average order value.
You can use AI for live chat by offering a customer service bot or, even better, through a personal shopping assistant in an onsite campaign.
3. Provide Finance Options for Expensive Items
Not everybody can afford that flashy piece of tech or a brand new sofa. They might want such an item but can't pay for it off the bat. But providing the chance to pay in installments can increase sales by 70%.
By offering financing options, you can increase your average order value over time.
Apple does this for items such as their Apple Watches: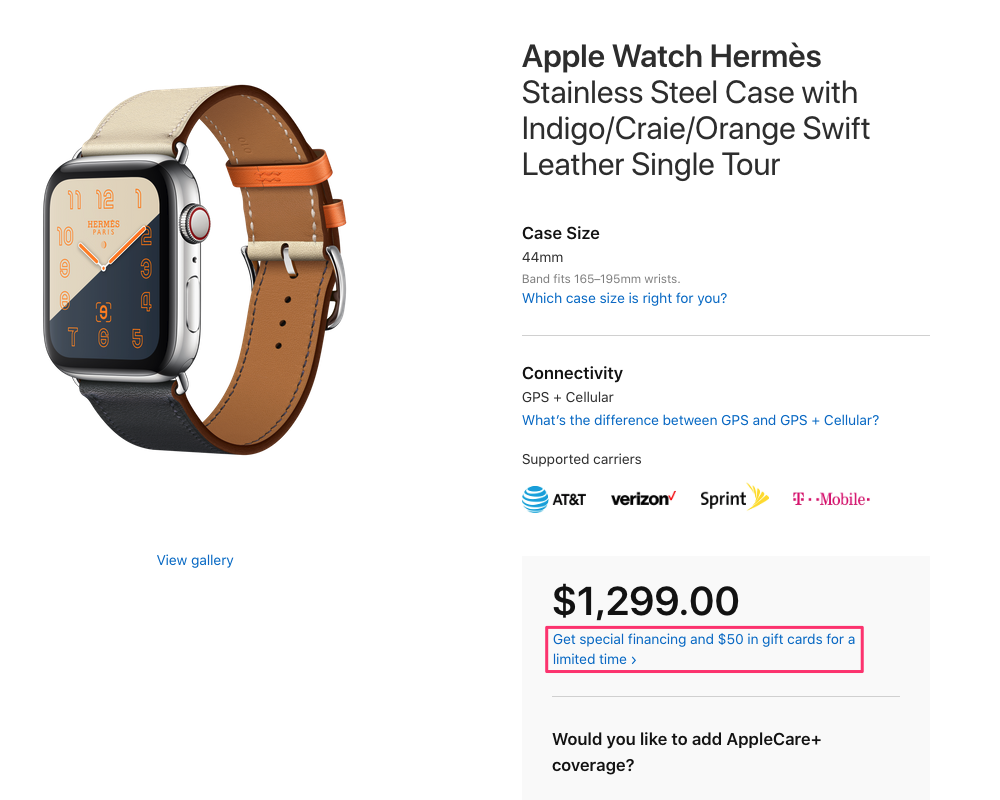 They combine financing options with further selling tactics. Offering $50 in gift cards makes the proposal enticing. And they add a sense of urgency to the deal by offering it for a limited time. Clearly, Apple knows what they're doing.
And you can do the same by suggesting installment plans on your more expensive items.
Taking Average Order Value to the Next Level
Average order value is one of the most important ecommerce metrics you can track because it boosts your revenue easily without all the extra work of converting customers.
By boosting each order by just a few bucks, you can amplify your sales revenue and offer amazing products to your customer at the same time. A lot of these tactics work even combined, but be sure to always test these strategies, and of course, always keep an eye on your data for the best success.
What strategies work best for your ecommerce store's average order value?